Photo: Proenza Schouler/ SS17
Step into SS17 with the hot new trends we can't wait to get our hands on feet in.
NYFW SS17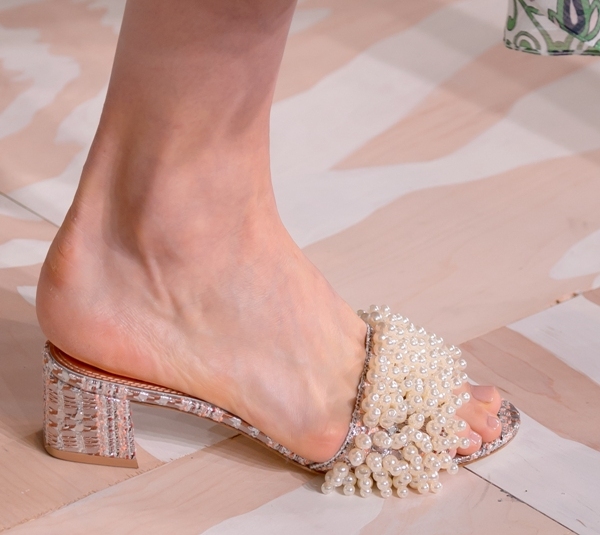 Photo: Tory Burch /SS17
Footwear trends spotted at the New York shows include the luxury slide, as seen at Tory Burch. Elevated pool slides return with embellishment that's key for the overly simple silhouette. The directional approach now focuses on shells, beaded tassels and pearls or short hair fur to give a pared-back look.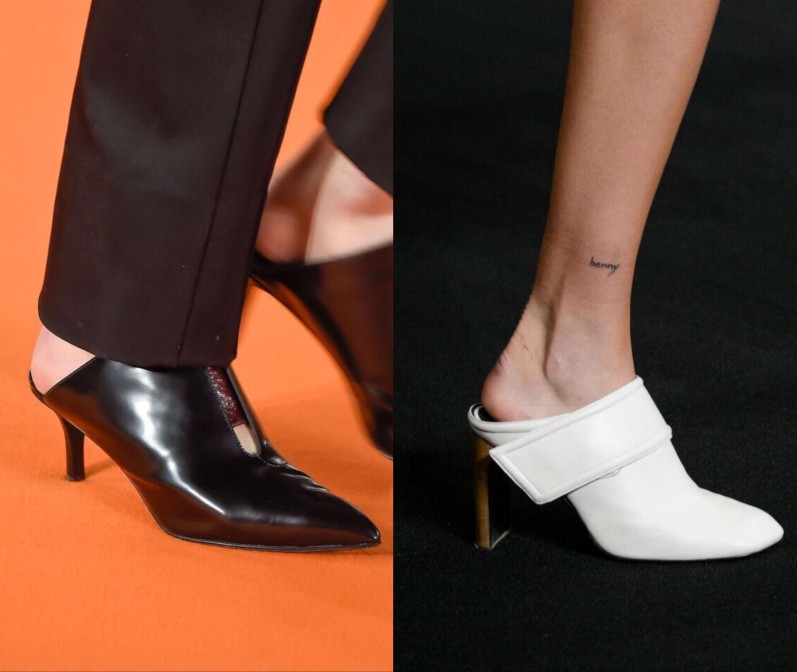 Photo: Opening Ceremony, Rag & Bone /SS17
For more height, the heeled mule offers an easy transitional style with both mid and high heels popular. Be inspired by Rag & Bone or Opening Ceremony and choose muted leathers for an everyday look or directional exotic skins in bright tones that make a statement.
LFW SS17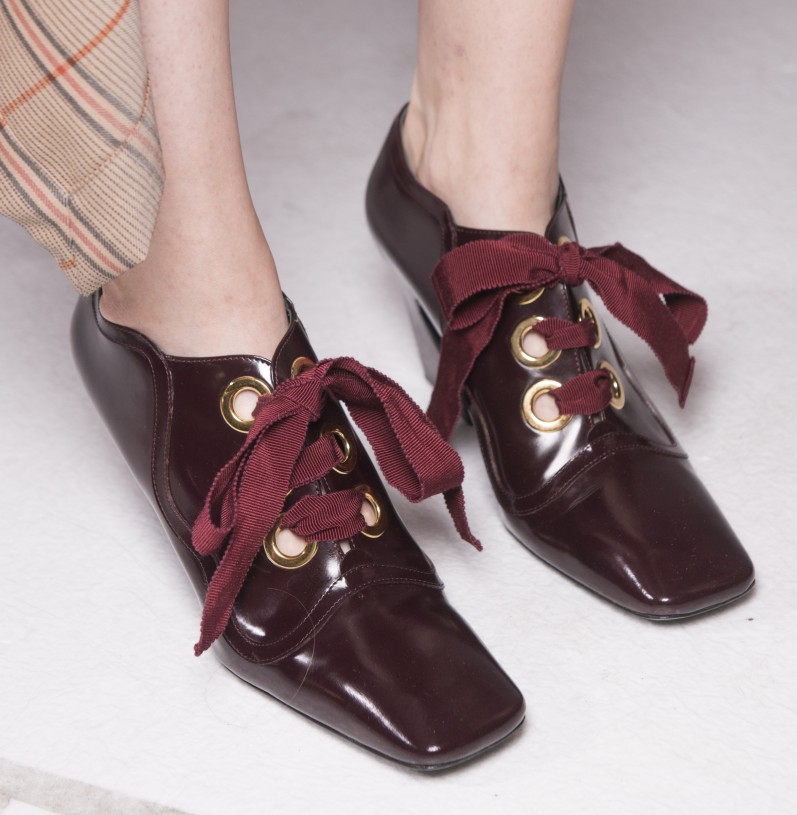 Photo: Mulberry /SS17
Take note of the History Decoded trend, hailing from London Fashion Week. Both Mulberry and Burberry Prorsum showcased rich themes exploring opulent historical periods such as flamboyant Tudor looks or antique Baroque details. Quaint multiple buckled constructions mix with ornately decorated shoes sporting extreme tongue patterns. More is more with manipulated ruffles, bejewelled buckles and even silk tassels adorning the footwear of tomorrow.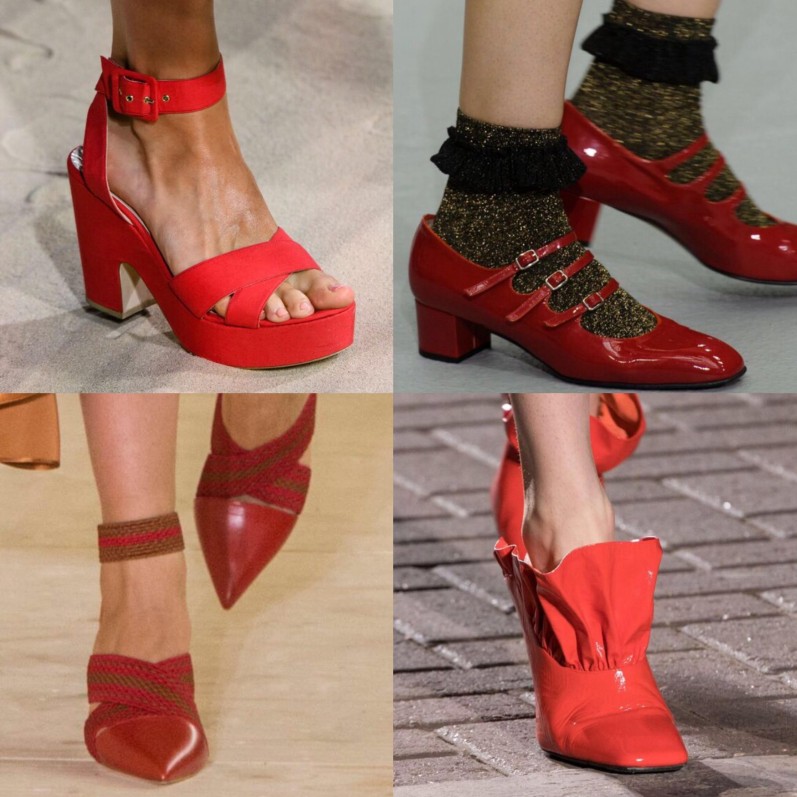 Photo: Roksanda, Rayan Lo, Mulberry, Temperley London /SS17
A bold colour story to come out of the shows was that of intense red. Making a statement across collections, and not just for footwear, the bright, saturated shade was seen on suede or high-shine patent leather. Concentrated coral, warm burgundy tones or vibrant tomato red was admired, especially at Roksanda.
MFW SS17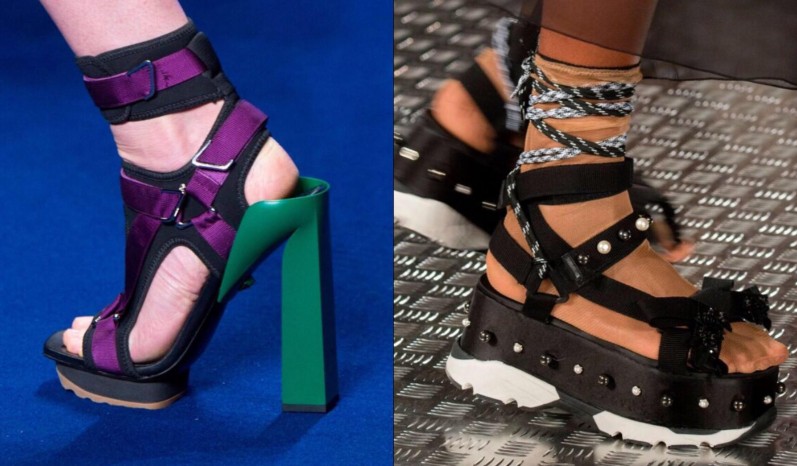 Photo: No. 21, Versace /SS17
Also energising SS17's footwear offering are the intense brights seen from the likes of Missoni and Bottega Veneta in Milan. Fitting the Modern Leisure trend, vibrant colours in solid applications update new profiles for maximum impact. Don't be shy – choose lemon yellow, bold blue or flame red. The intense shades look fresh on glossy satins or matte finish knits, influenced by sportswear.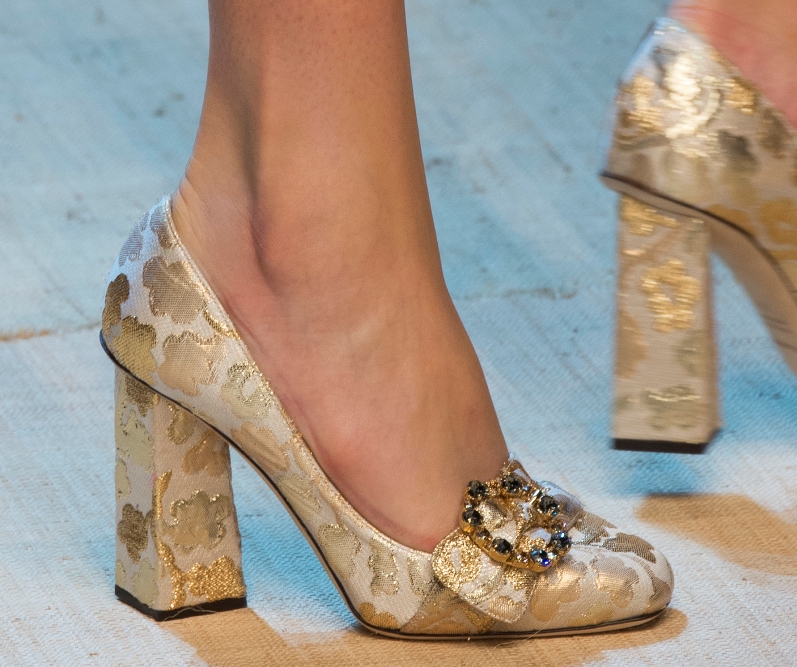 Photo: Dolce & Gabbana /SS17
Look to Dolce & Gabbana for a lesson in the Past Future trend; footwear takes on historical references as Victorian style boots are seen next to pointed-toe silhouettes such as the slingback or slipper. Nudes and blush pinks update staple shapes, with brocades and gem, bow or floral embellishments adding an ornate touch.
PFW SS17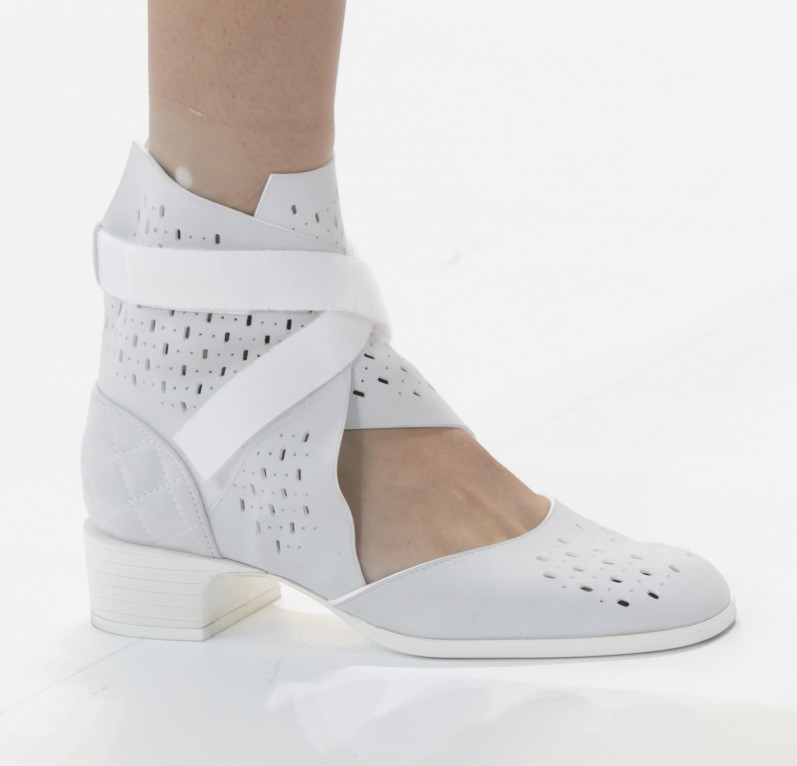 Photo: Chanel /SS17
The Modern Leisure trend continued in Paris, this time with a pared-back take on sports inspired looks. Footwear focuses on performance materials and fastenings. Chanel and Maison Margiela chose the direction to offer new takes on staple summer sandals, both flat and heeled.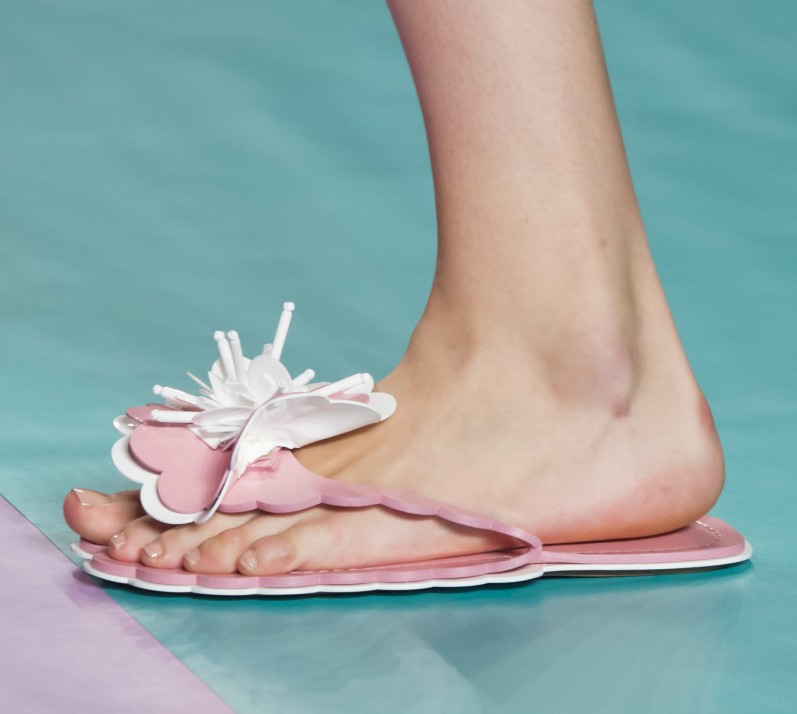 Photo: Miu Miu /SS17
The thong sandal emerges as an important new style for SS17 too (seen at Miu Miu, Dior and Lanvin). A chic alternative to sporty sliders, the flat construction is updated to include decorative flourishes from leather craft florals to pretty ruffles.
The texture to be seen in? Faux snakeskin. It continues to gain momentum and works across a range of footwear – take a look at fashion-forward styles from Louis Vuitton or Carven. The luxe material adds layers of colour for summer.
Men's SS17
With a relaxed approach for the SS17 collections, directional colour blocking adds a sporty, casual feel to your look. Bold highlights include viridian green, blazing yellow and sterling blue with nearly neon tones seen at Paul Smith.
Photo: Marni /SS17
Other colour trends for footwear and accessories include firecracker – the fluorescent orange shade is adopted for sheen fabrics, giving a sense of adventure at Marni and Off-White.
For minimalists, olive tones capture a military feel. Slightly softer this season, the earthy tone is used on footwear in high-shine leathers or other sheen fabrics for a sophisticated surface. Givenchy presents this commercial look well.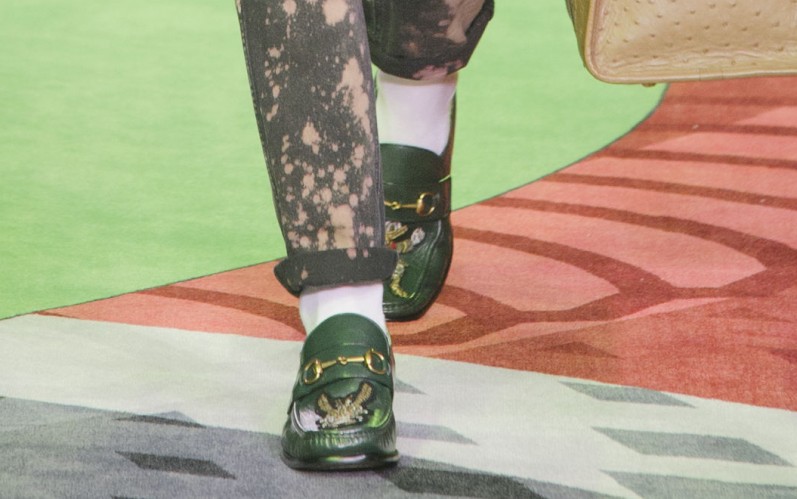 Photo: Gucci /SS17
At Agi and Sam, high-shine leather is combined with rich and dark tones, setting the sartorial mood. Applied to dress shoe or sneaker patterns, the feet are protected from the elements during unpredictable climes.
Another micro trend to emerge is that of embroidery (see footwear at Gucci), with the traditional cotton thread detailing lending a directional approach for the summer. Gemstone embellishments and metal studs are also seen giving a regal vibe, whilst other styles reference folk and floral inspirations.
Stride into spring/summer with EyeFitU, in style, in your size.