They say new year, new you.
We say new year, new colours.
Colour of the year
First up, Pantone's famous colour of the year has been announced as 'Greenery'. 2017's top shade is born from the Encounter Culture trend. It follows from a year of economic turmoil that sees us instead return to nature, focusing on the reassuring green from outside. A symbol of hope and speaking of a fresh start, the colour's vibrancy is spot on for SS17. The shade is fresh and zesty, with its tangy appeal also emphasising the rise for craftsmanship and recycling.
Colour pops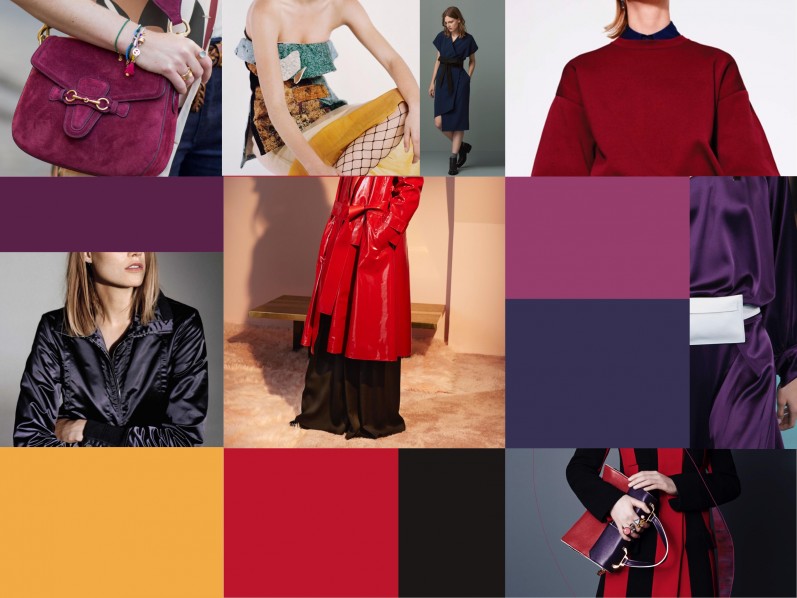 Our top three forecasted key colours for SS17 are mango, machine red and black plum. A two-sided yellow, mango conjures up tropical sunsets and juicy fruits; yet it also has a homely touch with a vintage softness.
Machine red makes the ultimate strong statement for high summer. It takes on even more intensity and power than AW16 and also appeals to the active inspired trend, fitting for January's New Year Resolutions or the high-octane pulse of the summer months.
Third up, black plum taps into the new 1980s wave, which is set to take over this season. Introducing the importance of purple, the transseasonal tone delivers a strong start to spring. Say hello to a big, bright hit of colour.
SS17 men
With minimal reinvention from AW16, SS17's navy lives on for menswear. Winter's inky blue tone is augmented at Salvatore Ferragamo, for instance, or tinged with green at Lemaire. Dark blue works well to elevate both street and workwear, this season coming from an Eastern influence across the shows.
Look to the likes of Raf Simons for a brighter shade full of confidence; intense red makes waves across casual looks and smart pieces. Teamed with dark grey shades or black, the vibrant colour adds to the sense of occasion, whether on a sloppy knit or smart dinner jacket.

The anonymous grey shade is chameleonic, demonstrated perfectly by concrete grey for SS17. At Jil Sander, muted pale grey summer macs summon up visions of the rainy days an unpredictable summer will provide. Pink tinged shades of grey, present at Rick Owens, work on sculptural voluminous outfits, or update structured tailoring.
SS17 women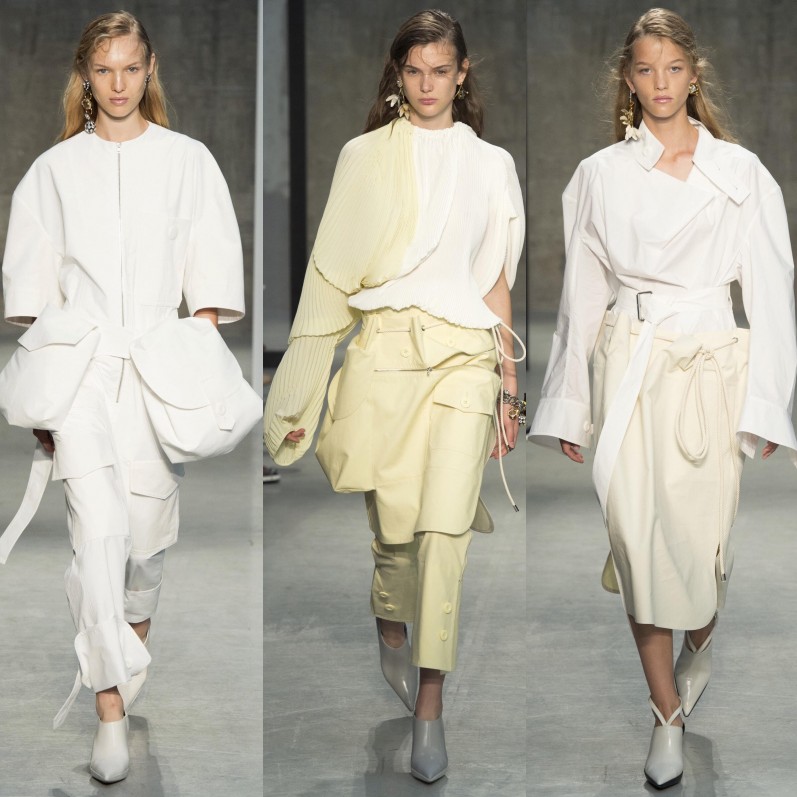 Photo: Marni SS17 /Yanis Vlamos
Continuing from pre-season as a core colour for SS17, white features in luminous to chalky hues. The pure and minimal choice, head-to-toe silhouettes are luxuriously defined in refined white, as seen at Marni. There's a delicate look in lingerie inspired dresses showcasing off-white, whereas minimalist tailoring is enhanced in chalk tones on silky satins.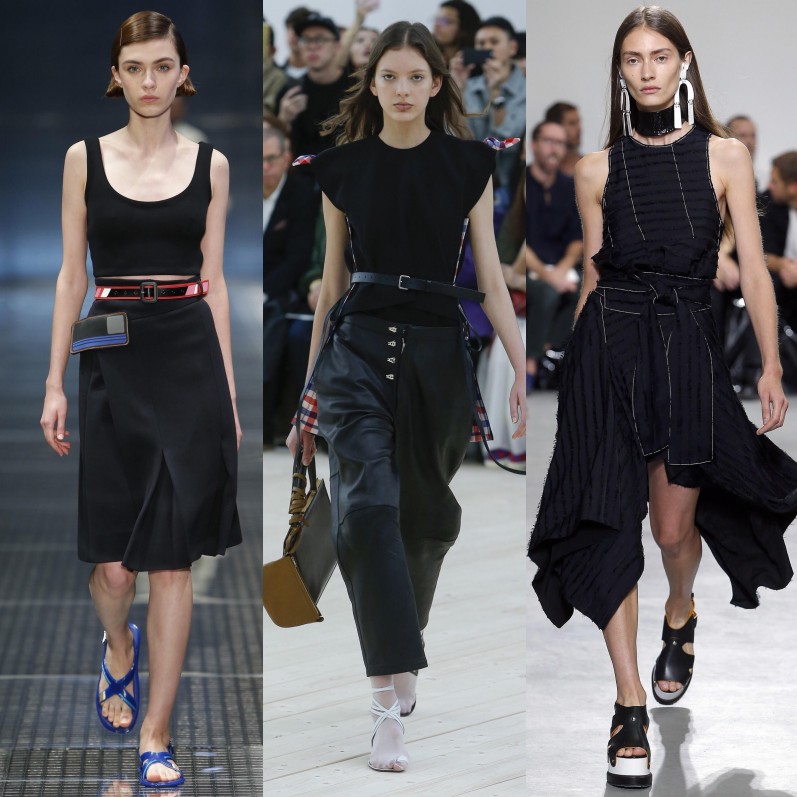 Photo: Prada,Céline, Proenza Schouler SS17 /Monica Feudi
In contrast, jet black is seen across the board in collections from Prada and Céline to Proenza Schouler and Christopher Kane. Head-to-toe silhouettes appear in pitch black adding a dramatic edge to the season, be it on streetwear pieces, tailoring or romantic boudoir shapes.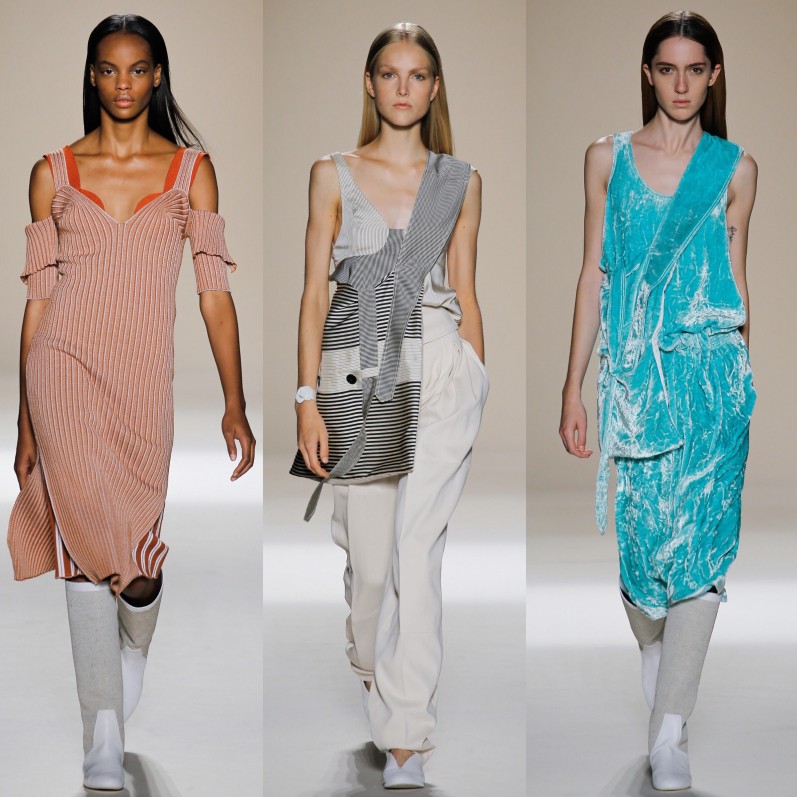 Photo: Victoria Beckham SS17 /Luca Tombolini
Adding interest to the minimal colour palette comes lightly dusted pales that emerge as a soft, feminine alternative to the season's emphasis on bold colour. Think pastel shades of pink, baby blue and lavender on cotton, crushed velvet and satin. Take inspiration from Victoria Beckham who gives the hues a new spin with a youthful sportswear appeal. They also lend sweet sophistication when applied to trims.
SS17 activewear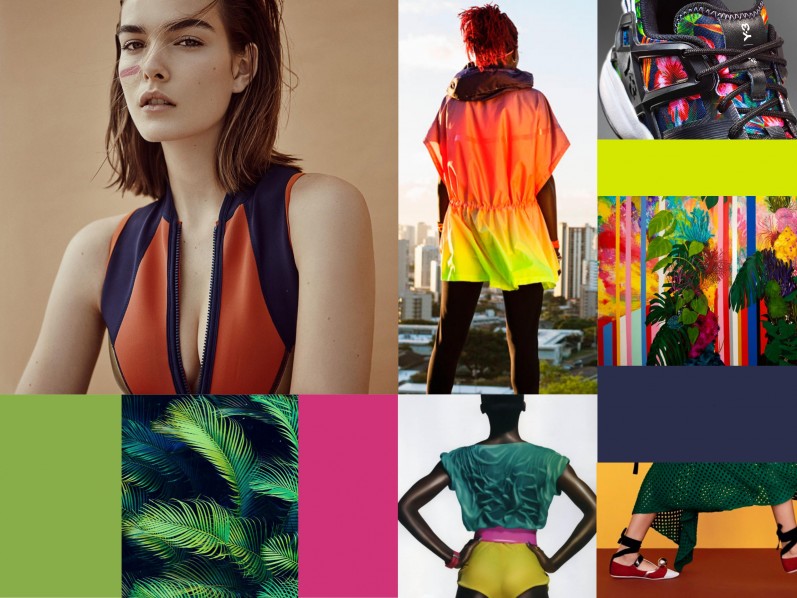 The high-summer colour vehicle for SS17 sportswear offers a ray of sunshine. Aptly named Encounter Culture, the palette sweeps from the sea to the sand via the jungle. Shades of cocoa bean, sand and coconut are key neutrals with an earthy, rustic vibe, whilst tropical bursts of Caribbean culture are offered in bright dragon fruit pink, parrot green and mango.
Inspired by the beaches of Cuba, intense shades of crown, amethyst and pacific blue recall the summer surf. Pair with warm and sandy tones such as ackee for a fun fusion of natural shades and brights.
Indeed, brights emerge from intense darks and offer sophistication. Activewear is seen in saturated colour levels of sunshine and mango, complementing the rich pairing of dragon fruit and gachala green. Deepest blue anchors this palette with radiant amethyst.
So however you dress for the new season, be sure to wear a rainbow of trending colours.