Photo: amfAR gala Milano 2016 /amfar.org 
Here at EyeFitU, we are proud to announce our support of the amFAR gala event in conjunction with Milan Fashion Week. As a socially responsible company, we were delighted to support this foundation that raised €2 million at that magnificent event.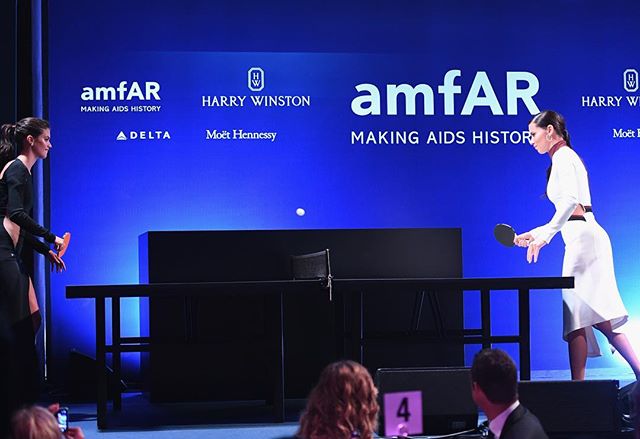 Photo: amfAr gala Milano 2016 /amfar.org 
Making AIDS history' is the mantra of amFAR, which was founded in 1985 and is dedicated to ending the global AIDS epidemic through innovative research. amFAR Milano 2016 was held on Saturday, September 24th – the eighth annual gala in conjunction with MFW. The Italian fashion community has long been exemplary in its support of amFAR; to date, has raised more than €10 million.
Drawing an exciting and diverse range of distinguished guests, EyeFitU enjoyed meeting designers, personalities and celebrities associated with MFW, alongside famous names from the music, business and art worlds. In recent years, amFAR has paid tribute to icon Franca Sozzani, Editor in Chief of Vogue Italia, actress Sharon Stone and model Irina Shayk. Covered in international press from Vanity Fair and WWD to The New York Times, Vogue and W Magazine, the gala is attended by the best-dressed and most socially responsible stars. Previous years have seen the likes of Naomi Campbell, Diane von Furstenberg, Roberto Cavalli, Grace Jones, Chiara Ferragni, Kanye West, Debbie Harry, Alec Wec, John Legend, Mark Ronson, Dakota Johnson and many, many more in attendance. This year followed suit.
Partnering with Harry Winston and Moet Hennessy this year, guests met at 8pm for cocktails followed by a dinner, live auction and performance. The After Party kicked off from midnight, all held in the art museum, La Permanente.
EyeFitU is proud to act as supporter to amFAR, the foundation accelerating the pace of HIV/AIDS research and contributing to numerous breakthroughs that are extending and saving lives all around the world. The charity has invested more than $450 million in its programs, spawning numerous significant advances in HIV prevention, treatment and care. These accomplishments have helped extend, improve, and save the lives of countless people around the world living with HIV/AIDS or vulnerable to HIV infection.
Hats off to another wildly successful MFW amFAR gala this season.