Men's Top Trends from PFW
8 April 2017
by Isabelle Ohnemus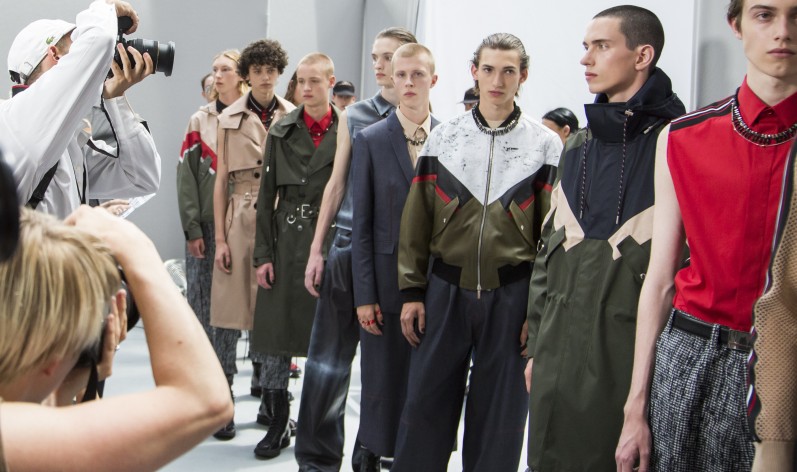 Photo:  Dior Homme / AW1718 Paris
We took it to Paris for the third Fashion Week Men's. Stay tuned for AW17/18 highlights and leave 'safe' at the door as the collections proved some pretty statement trends are coming your way.
Volume Tailoring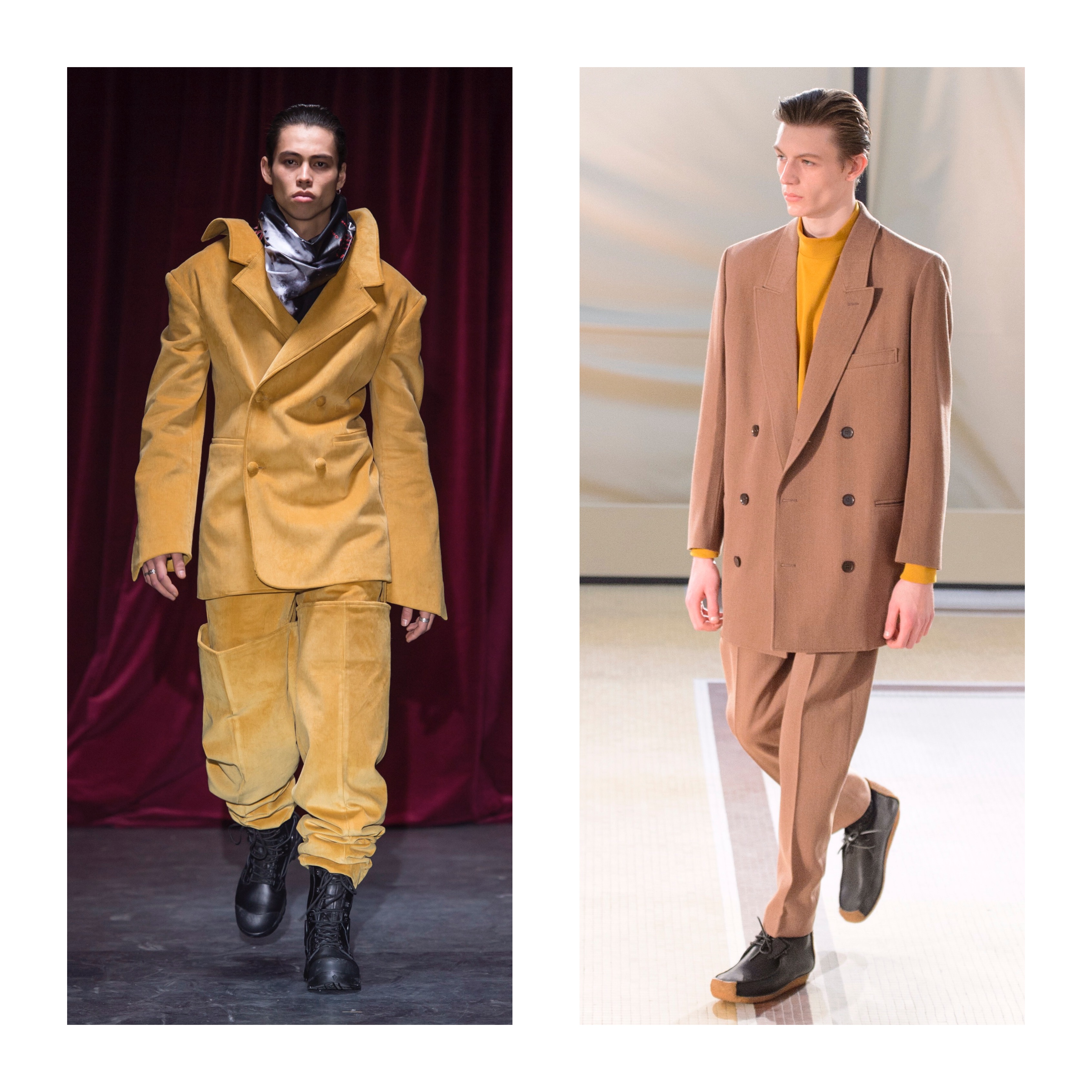 Photo:  Y-Project, Lemaire / AW1718 Paris
The smart looks in Paris, across Y Project, Balenciaga and Lemaire, favoured loose-fitting and sometimes exaggerated shapes. The anti-skinny aesthetic echoed the visual language of last season but this season's boxy suits become commercial in more rounded collections. OAMC's version forgoes topstitching creating a puffed-up silhouette.
Velvet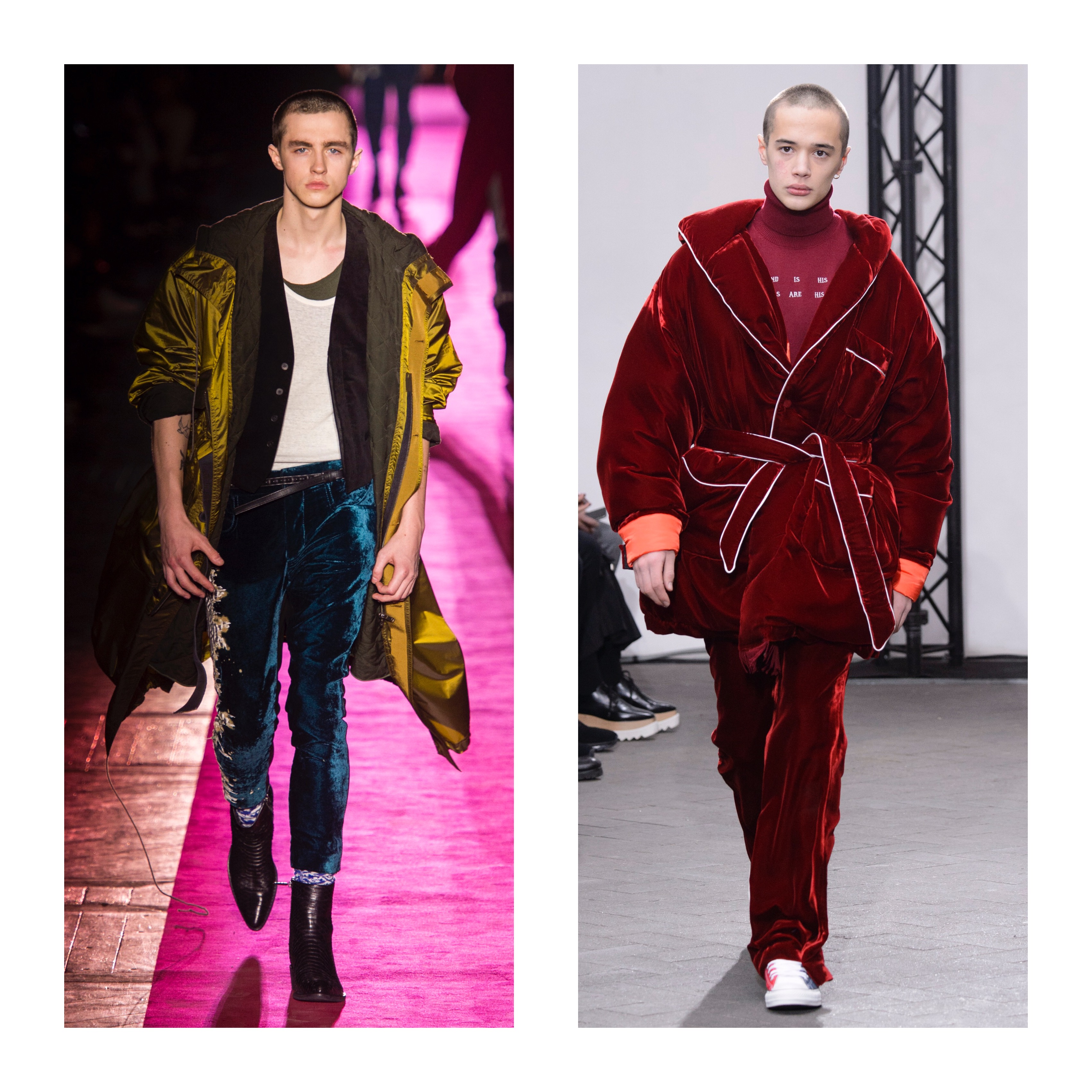 Photo:  Haider Ackermann, Facetasm / AW1718 Paris
The texture to note for next season? Noble velvet. It's not brand new for Autumn/Winter but it's fresher and more casual. In a lounge context, jewel shades predominate but are given a youthful appeal across skinny jeans, loose pants and souvenir jackets. A magpie effect is happening at Walter Van Beirendonck, where velvet was styled with contrasting pieces as opposed to the usual black tailoring.
Transformable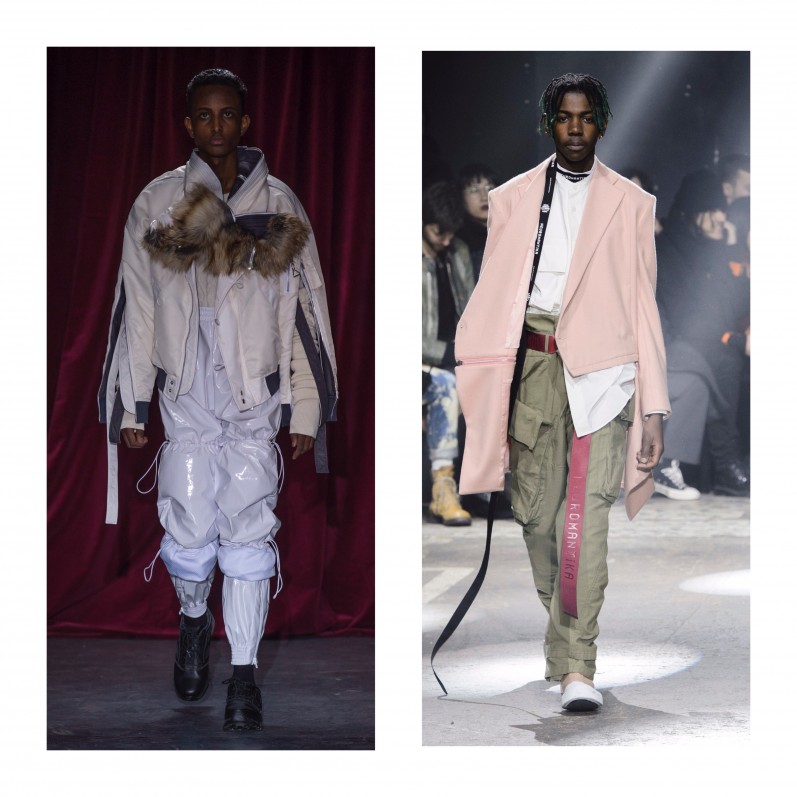 Photo:  Y-Project, Julius / AW1718 Paris
Following the Modernist theme in Milan, Transformable proves an interest in items that allow the wearer more than one end-use, as well as a continued investment in styling through layering. Whether for practical or novelty application, convertible pieces employ Velcro, zips and ties. At Y Project, jackets are cropped, trousers flare open and pockets or panels are added and subtracted for dramatic effect.
Streetwear appeal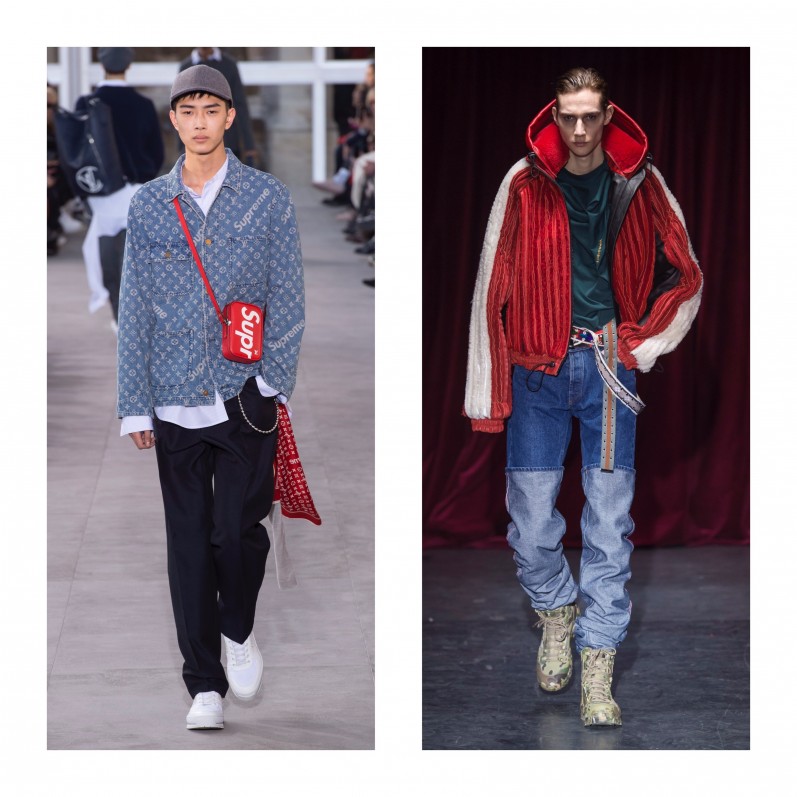 Photo:  Louis Vuitton, Y-Project / AW1718 Paris
Louis Vuitton and Off-White look to skate and sports influences as the importance of streetwear reigns on. Kim Jones collaborates with New York imprint Supreme to striking effect, whilst a contemporary spin is lent to denim silhouettes. Ensuring the perennial fabric's place on the street, novelty pattern and print is experimented with, in oversized shapes and off-kilter cuts.
Bright graphics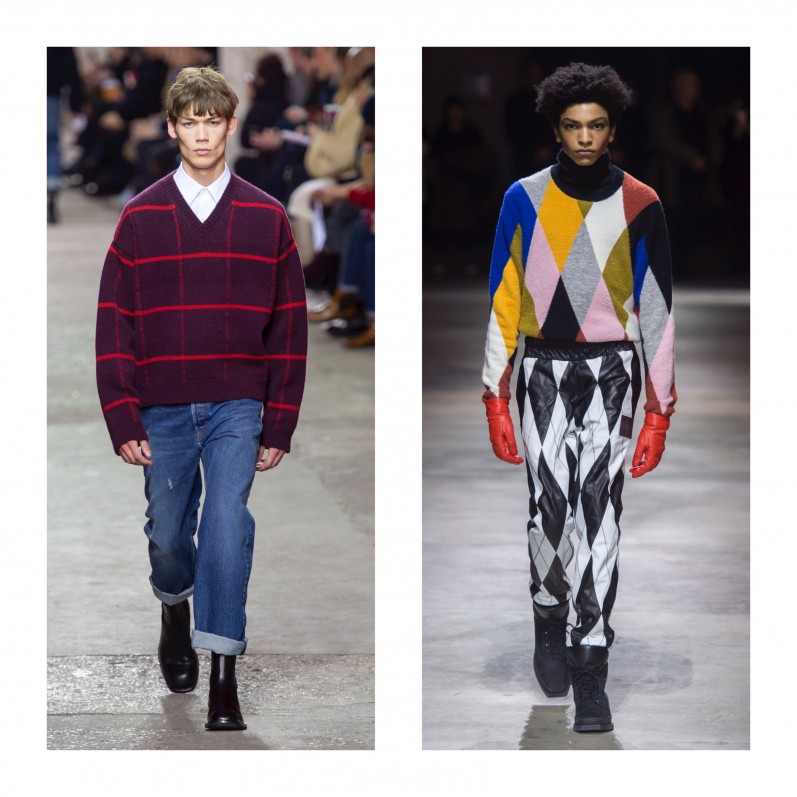 Photo:  Dries Van Noten, Kenzo / AW1718 Paris
Sportif blocking becomes more detailed and abstract, with graphic grids and macro-scale geometrics taking bright graphics into AW17/18. See Kenzo and Dries Van Noten for inspiration. The collections added youthful appeal to V-neck styles and classic crew necks in electric red tones or multicolour brights. Linear patterning and more traditional tile stitches work across intarsia looks.
Purple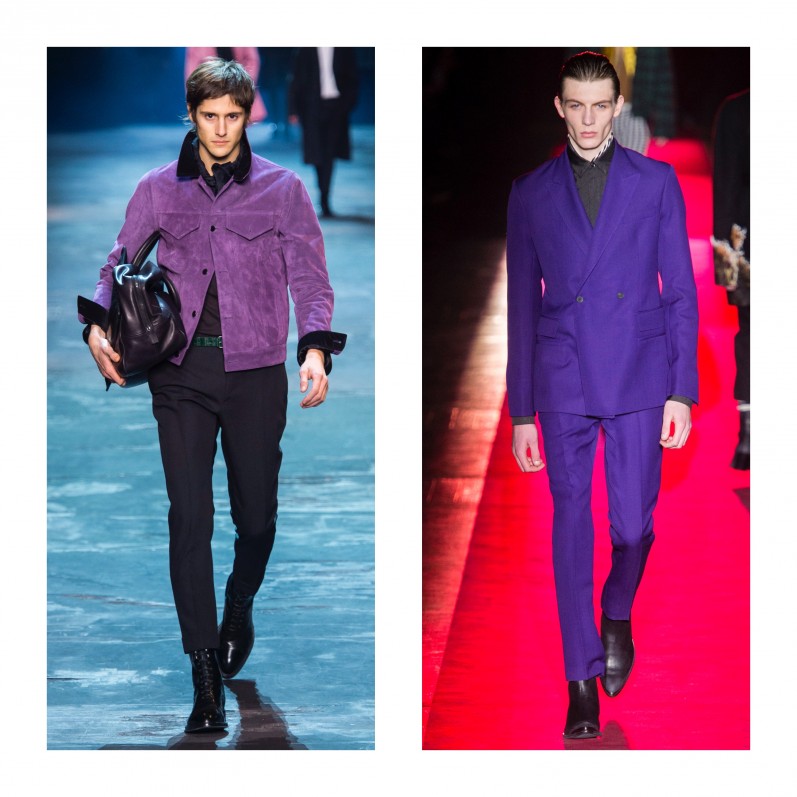 Photo:  Berluti, Haider Ackermann / AW1718 Paris
Onto the top colour trends of next season and the fluid colour of purple plays particularly well on textured bases of wool and suede, showing off its inherent luxury value. Taking on several guises for autumn, the noble hue is given a youthful twist at Ami Alexandre Mattiussi and Haider Ackerman via sporty, electric tones. At Berluti and Cerruti, dark seductive damson shades were prevalent.
Scarab green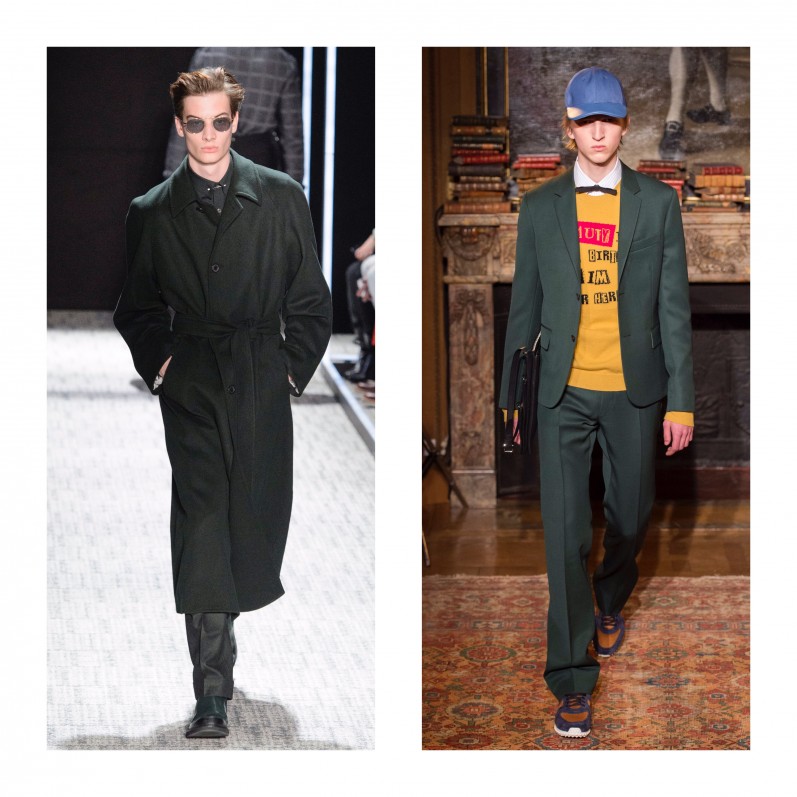 Photo:  Cerruti, Valentino / AW1718 Paris
Secondly, the iridescent shade of scarab green comes alive on sheen and velvet suitings. Its vitality and depth is also felt on loose wools. The shade works at once on rebellious, street-ready looks or across smart ensembles for a refined air. Get ready for the verdant colour to enliven staple pieces in your next season wardrobe.
Bold red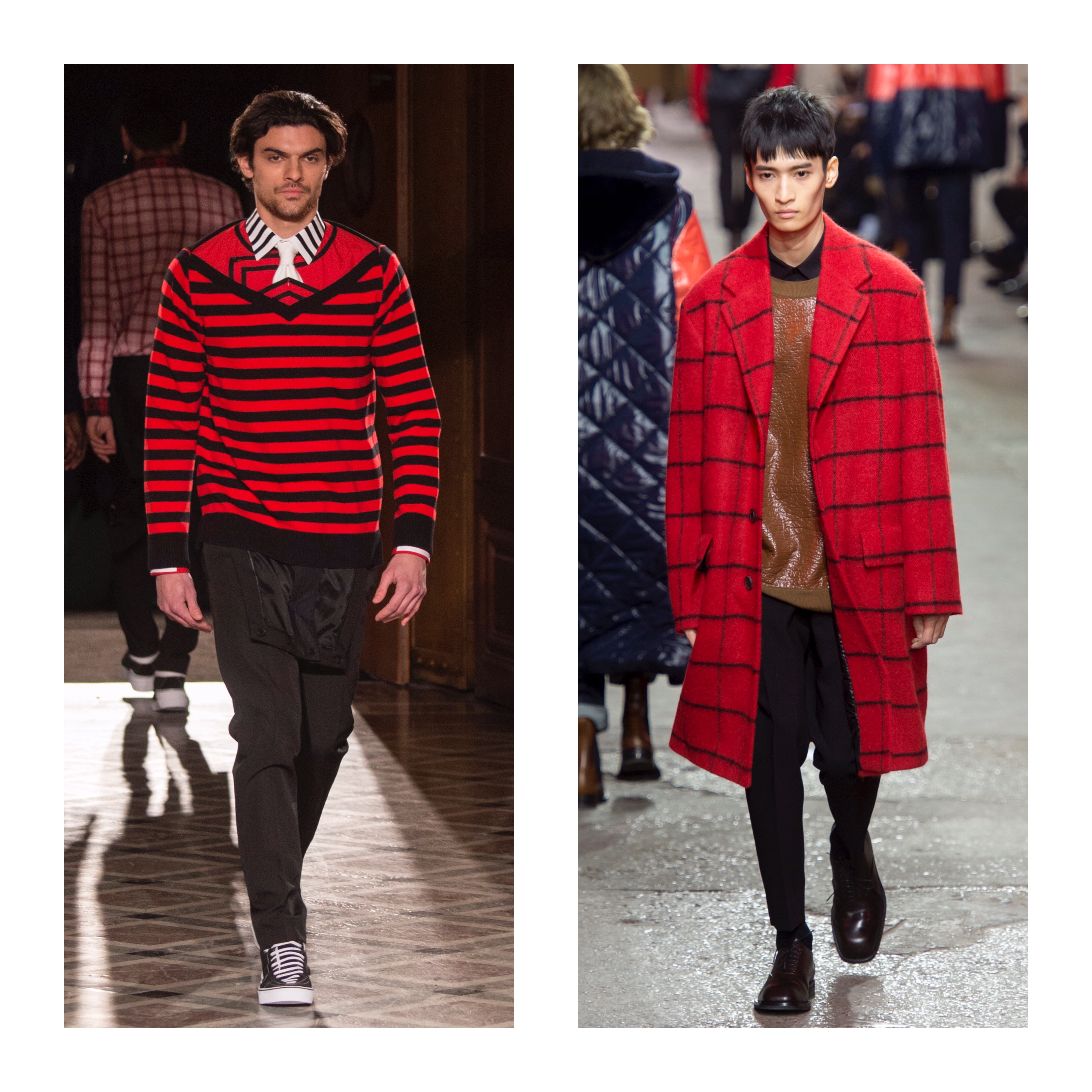 Photo:  Dries Van Noten / AW1718 Paris
Last but not least, the primary shade of red is paired with solid black to create checks, stripes and cut-and-sew blocking referencing grunge and punk. The anarchistic tone is felt most in Études Studio's chunky stripes and echoed by the collection at Facetasm. Red hues are championed across a number of AW17/18 trends, sitting perfectly with Nocturne or channeling Americana.
We can't wait to see what New York Fashion Week Men's follows with, up next.