Photo: John Elliot AW17/18 New York
Fashion Week Men's came to an end in New York, wrapping up the AW17/18 collections with a bang. We take a look at the most noteworthy trends to have on your radar for next season.
Rugged Lounge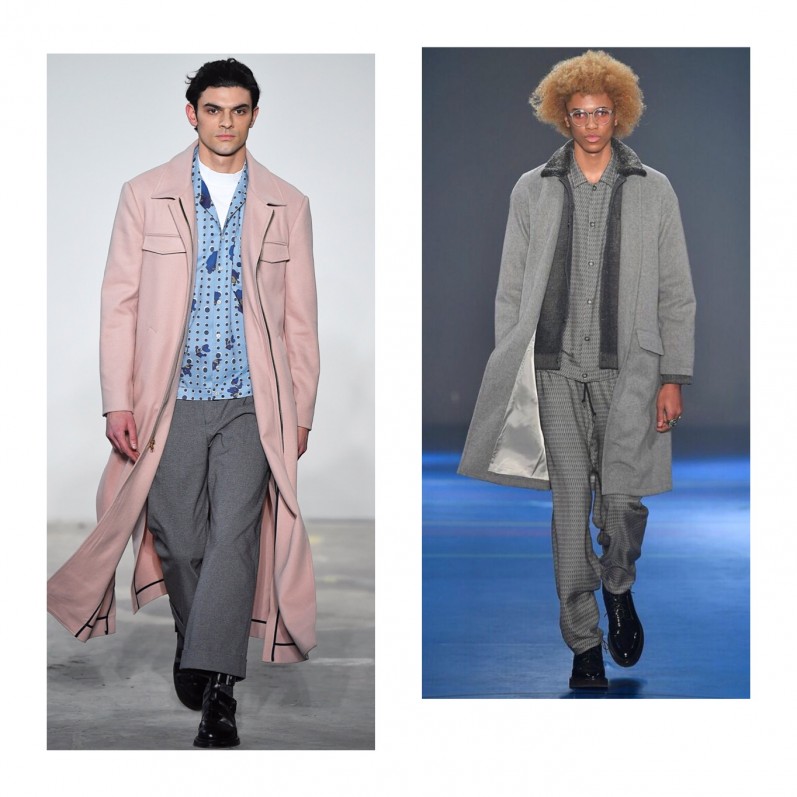 Photo: Carlos Campos, John Elliot / AW1718 New York
Our first trend to note from NYFW Men's AW17/18 was that of Rugged Lounge. Relaxed loungewear and workwear meet in the middle – think voluminous satin pants infused with touches of floral and a sleepwear influence. John Elliott presents coordinate sets that channel pyjamas, yet with a nod to utility. We also spotted corduroy or wool trousers contrastingly styled with breezy resort shirts in pastel tones.
Corduroy
Photo: Uri Minkoff, N.Hoolywood AW17/18 New York
Less luxe, more nostalgic, corduroy surprised on the catwalk. Jackets and trousers took on a 1980s spin, especially in the fuller legs seen at Engineered Garments. Billy Reid and Uri Minkoff utilised the material in a more classic menswear context, with the latest jewel tones presenting an upscale modernity on tailored pieces. In contrast, a rumpled appeal is seen in the textured overalls complemented by a corduroy trucker at Rochambeau.
Velvet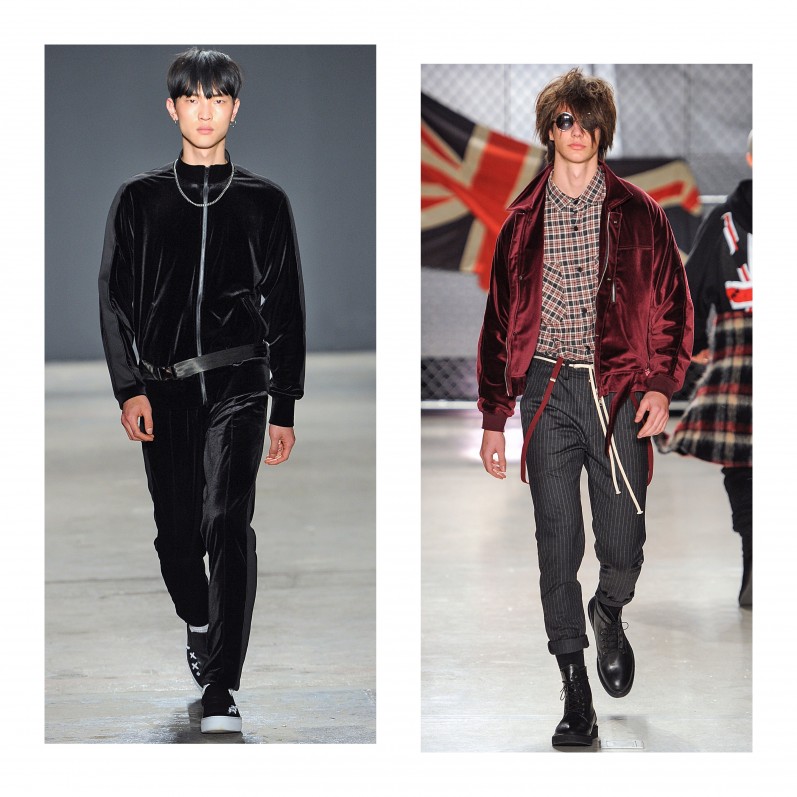 Photo: Ovadia and Sons, Represent AW17/18 New York
Velvet was the second sumptuous material selected to elevate streetwear staples with luxe attitude and keep athleisure pieces fresh. In line with the move towards plush materials, a velvet double-breasted suit speaks to confident men. Elsewhere, General Idea uses the fabric for an eccentric military jacket and velour youth offerings were spotted at Ovadia & Sons and Represent.
Satin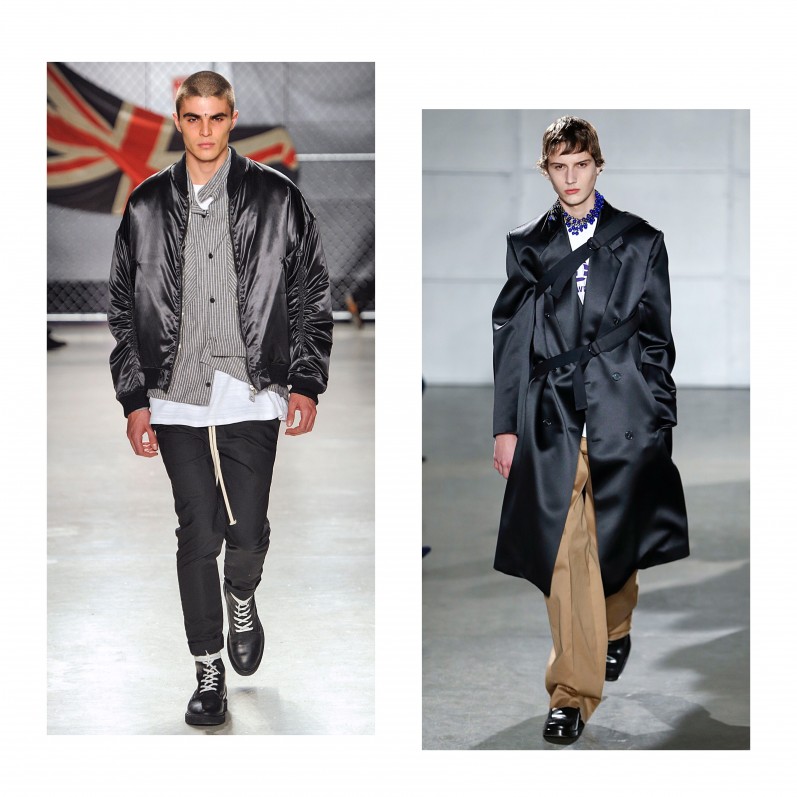 Photo: Represent, Raf Simons AW17/18 New York
An array of designs worked with high-shine satin to upscale outerwear, particularly the bomber jacket. Engineered Garments and Raf Simons showcased topcoats that channelled 1990s fashion and gained luxurious appeal. At Robert Geller, elasticated waist trousers in jewel toned satins blurred the lines between sporty and smart.
Camouflage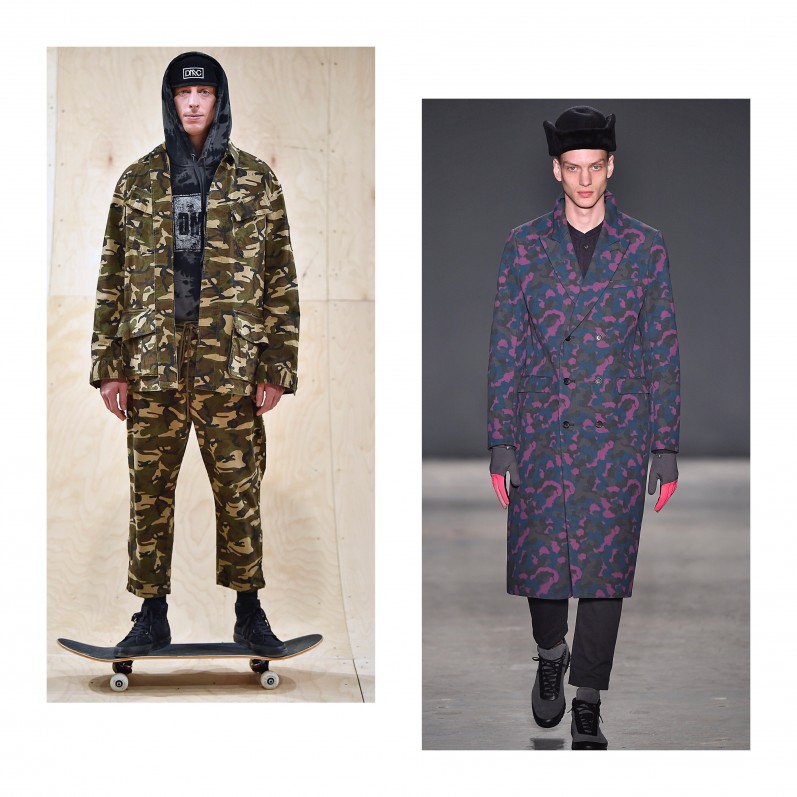 Photo: Dim Mak Collection, Robert Geller AW17/18 New York
Natural camo was introduced in London and seen again in New York City. Robert Geller utilised highly colourful interpretations, which updated tailoring staples from suiting to the double-breasted topcoat. Woodland camos across outerwear and edgy, skate inspired trousers were preferred by Dim Mak Collection and Represent. Used not only as a military reference but mainly to ground certain pieces in the youthful world of streetwear, it seems camo is here to stay.
Retro logos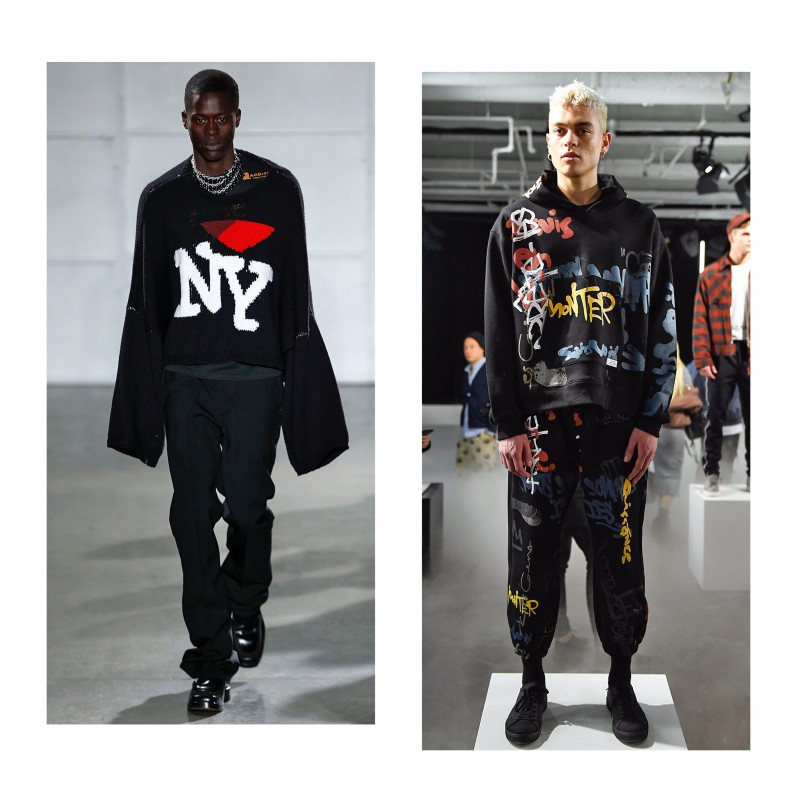 Photo: Raf Simons, Stampd AW17/18 New York
The New York shows were awash with graphics informed by nostalgia. First up, Stampd and Krammer & Stoudt reference streetwear of the 1990s through graffiti experimentation and subversive punk slogans. The sports graphics seen at Willy Chavarria are cheeky nods towards ambiguous teams and social causes. There was also Raf Simons reinterpreting Milton Glaser's "I Love NY" iconography on unexpected exaggerated knitwear. Finally, Nautica dips into its own archives to present resurrected logos and all-over prints.
Yellow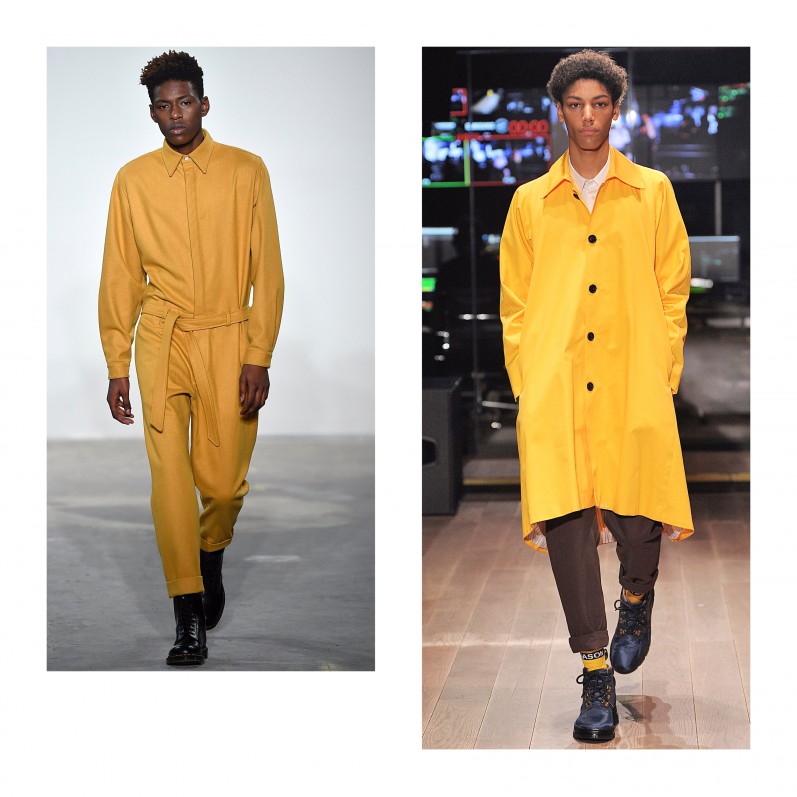 Photo: Carlos Campos, Kenneth Ning AW17/18 New York
As seen on the rest of the fashion week circuit, yellow shone bright. Dusted down hues work well for more mature offerings (in particular rugged shirting and outerwear), whilst bright yellow pops lend a youthful update to jersey basics and trench coats. Carlos Campos transformed a boilersuit from workwear to sporty thanks to dark yellow.
Dusty pink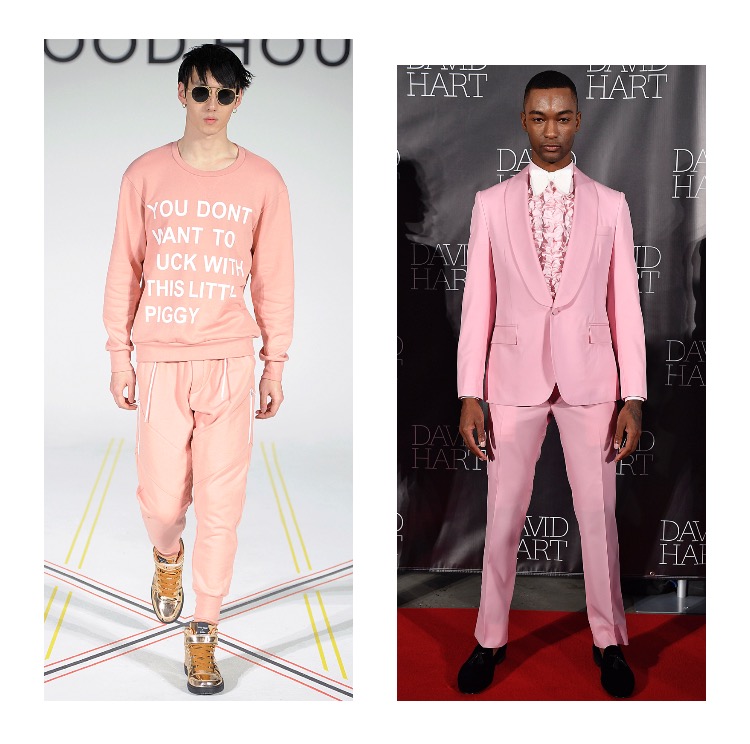 Photo: Wood House, David Hart AW17/18 New York
Top colour and our final trend dusty pink was making waves in New York. The faded pink tone worked across statement eveningwear at David Hart and was also especially popular for youthful streetwear such as hoodies, sweatshirts and puffa jackets. Smart outerwear was uplifted with a streetwear attitude with the washed-out shade tempered by typical menswear darks – navy and black.
That's fashion week for the boys wrapped up so what will you be wearing next season?