Now Trending: The Nineties
23 May 2016
by Isabelle Ohnemus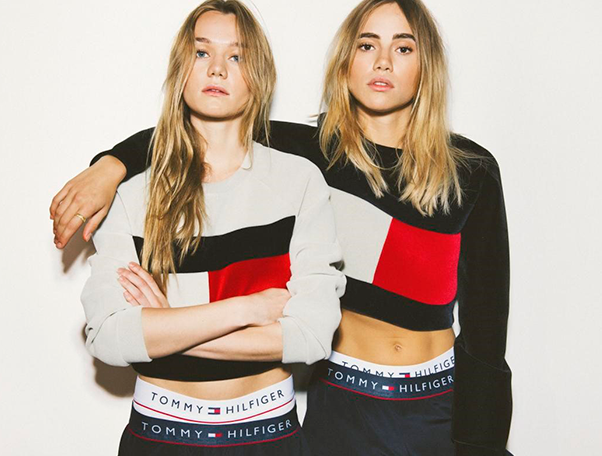 Photo: Tommy Hilfiger/Vogue
There's no escaping the 1990s. Whether the meteoric Calvin Klein comeback or the resurgence of double denim, we are all obsessed with the 90s (again).
Providing a treasure trove of throwback inspiration, designers and consumers alike have revisited the era. Essential pop culture moments of the 1990s are resurfacing in campaigns, lookbooks and collaborations; brands are capitalising on the nostalgia of the millennial market. The likes of Tommy Hilfiger, Calvin Klein and Guess turned to their fashion archives, reviving stonewashed looks whilst Vetements and Marques Almeida have gained success via the re-appropriation of the era's idiosyncratic style. Browse collections with a nod to the 90s on EyeFitU, be it retro Puma or oversized denim from Mango.
Characterised by a range of iconic aesthetics, the era is known for urban street and skate styles or normcore. Throwback staples such as high-rise jeans, coveralls, oversized trucker jackets and infamous double denim are the pieces to look out for, in a fresh palette of vibrant stonewashed blues. Be in the know – keep an eye on hype brands such as Wood Wood, Fear of God and Supreme for inspiration. Rooted in 90s style, they're sought after globally, with collaborations with Calvin Klein and Urban Outfitters giving these big 90s names relevance for mass markets. Choose EyeFitU favourites Boohoo and ASOS for 90s staples like the 'mom jean' with a modern twist. On the catwalk, designers such as DKNY, Ashish and Opening Ceremony are infusing collections with a heavy dose of 90s denim inspiration, presenting contemporary, youthful spins on wardrobe favourites. When it comes to street style, Fashion Weeks and Festivals have been littered with 90s inspiration as influencers seek out all-American styles.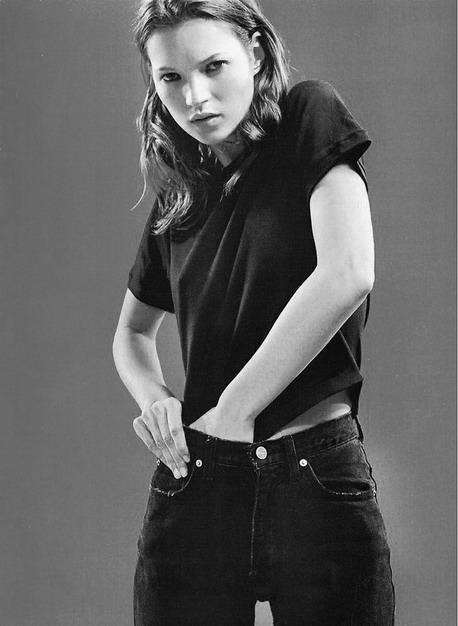 Photo: Calvin Klein/eatsleepdenim.com
For denim in particular, the wearable classics and original androgynous style of the 90s have never been more relevant. Mood pictures of 90s icons in anti-fit styles, plus multiple sightings of stiffened jeans on the catwalk and in campaigns, have fuelled a mainstream appetite for genuine non-stretch jeans. Try out Forever 21's offering on EyeFitU for size.
Layered denim embodies 90s styling, which is kept fresh for now in light palettes of spring stonewash and barely there blues. The trend for minimalist normcore continues to be a key styling note. As too do skater and urban iterations with skater skirts (we love River Island's pieces), anti-fit jeans and elastic strap dungarees paired with striped tees and turtleneck tops. Rigid jeans guarantee an old-fashioned anti-fit, hence shoppers seeking out thrifted styles from dependable old-school brands from CK jeans and Guess to Levi's. So what are the key items to snap up? Wearable, classic styles including the highrise, straight-fit, 501-inspired jean – a straight or tapered leg cropped at the ankle gives contemporary form. When it comes to jackets, a trucker is the piece to look out for, featuring dropped shoulders for a slouchy outline. Update them with youthful styling such as ankle-skimming hemlines or upsized proportions.
Coveralls are also given a fresh look through a miniskirt hybrid silhouette and bold, tonal patchworking. When tapping into this trend, gender-neutral styling is wise. Experimental branding was key for the era, which provides a wealth of design inspiration for young, independent brands. SJYP offers a contemporary take on Tommy Hilfiger's trademark branded elastic straps on coveralls, whilst Supreme and Aries use the decade's simple fonts or graphic print placements for their vintage-inspired looks. ASOS Marketplace has a good offering via EyeFitU too.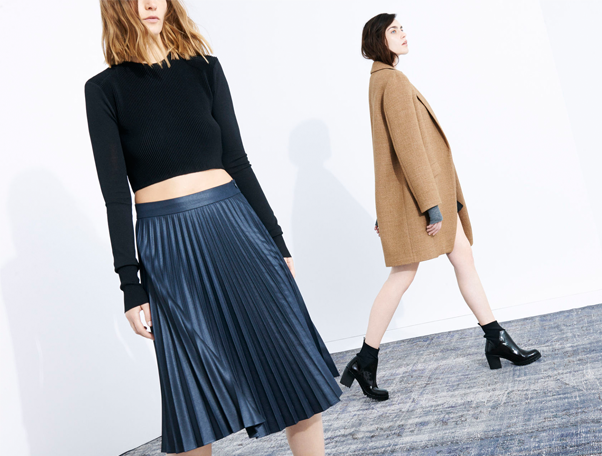 Photo: Zara Women/fashiongonerogue.com
Of course, grainy stonewash is evocative of the 90s but today, look to a range of updated wash and finish effects to move the trend forward into the next season. Indigo shadow techniques or unpicked seams update hemlines on jackets and pants, as do DIY cut-off seams with a frayed finish. Invest in pieces with resin coatings, applied in thick stripe formations for statement looks. If you're not feeling blue, a range of vibrant over-dyed tones are having a moment, in line with the Soft Pop trend. Take inspiration from thrifted looks from top 90s brands and make use of softly laundered finishes in a range of pastel pinks or aqua green. Keep things simple and wear as a statement piece or be bold in a matching set.
Long live the 90s!