Sneakers for this season (and beyond)
16 June 2016
by Isabelle Ohnemus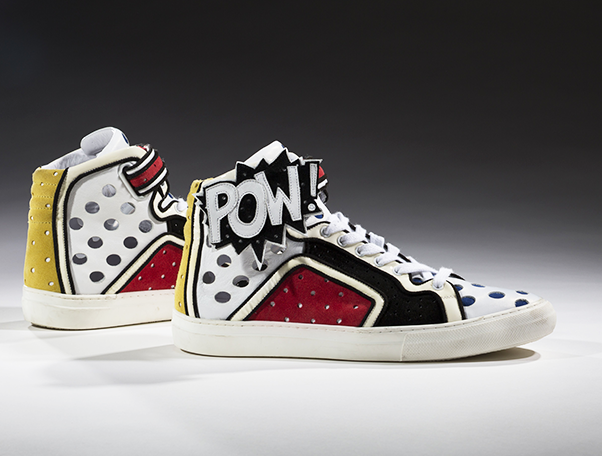 Photo: The Rise of Sneaker Culture/ brooklynmuseum.org
We need to talk about sneakers.
The global footwear obsession started from modest origins in the mid-19th century. Now an urban icon, today we're taking a look at trainers and their multitude of micro trends.
No matter if you love traditional tweeds, faux animal skins, glitter luxe, fur trims, vibrant graphics or elevated soles, you can find the perfect pair of sneakers in your size on EyeFitU. As we've moved into the S/S season, the surge in health and fitness has been driving running shoes sales to the next level. What's more, the strong influence of boxing, collegiate sports and millennial fitness junkies gives rise to a street-meets-sport theme. Whilst activewear is sporting fitspo slogans aplenty, footwear brands have followed suit with bold graphic text. Check out Adidas on EyeFitU with their running shoe offerings in eye-catching pops of neon.
Come winter (not that we want to think about it just yet), both men's and women's styles will turn dark and edgy, with a makeover in luxury materials – everything from apparel tweeds to statement glitter. A less obvious take on camouflage, in rich shades of olive green, black and brown, is going to be popular, whilst luxurious suedes and smooth leathers combine. Elsewhere, black and white are bound to remain a key colour combination, reflecting the graphic monochrome theme taking over activewear at large. Get ready to stand out with artistic graffiti and oversized logos. If you're shopping on a budget, search Topshop and Topman on EyeFitU for well-designed fashion footwear in active materials nylon and neoprene.
Focusing on colour, there's quite literally a rainbow of shades to choose from when it comes to your new sneakers. The soft cosmetic tones in activewear morph into a range of pink-cast neutrals for S/S 16. The strong emergence of dusty pink tones for men proves this range of hues is one to watch for both sexes over the coming seasons. Electric, highly saturated blue is also popular for S/S 16 sneakers – cobalt is a winning shade on athletic and casual sport footwear. Keeping it blue, indigo night moves on from classic navy for a deep, inky look. The darkly rich hue translates well across genders and markets; we think it's the perfect transitional shade for all seasons. Naturally, grey is a key neutral for sneaker brands and marled materials have been spotted everywhere from Nike to New Balance. The textural interest is also seen with experimental knit and woven uppers, whilst some brands choose basic suede and leather in all-over grey for a more classic look.
If you're shying away from colour, bright whites persist this season; keep your look sleek in a range of silhouettes whether you choose minimalist hi-top styles or lo-top designs with asymmetrical lacing. Luxury brands have pushed sneakers sans laces for their A/W assortments, instead focusing on luxe materials, so keep an eye out for a new pair with a twist. EyeFitU loves the unexpected! Alternatively, get your hands on retro three-strap Velcro – this trend is primarily about material-mixing counter-accents.
For those that prefer less fuss, with a minimalist attitude, the normsport look reigns strong. Based around core basics with seasonless appeal, the calming palette of neutrals lends itself to unisex design. Low profile silhouettes are favoured with slip-ons and lace-ups the most prominent. Try tonal colour blocking to add a pop without being too bold. Take a look at Forever21 on EyeFitU, who are tackling non-boring basics well.
Whether you're pounding the treadmill or meeting friends for brunch, don't be seen without your sneakers of the season. The trends are as varied as they come, from tropical print skate shoes to black and gold blocked high-shine metallics via warm camel padded hi-tops. You know you're just a tap away to sneakers in your size on EyeFitU so never was there a better excuse to buy more than one pair.
You can thank us later!