Sun is out, sandals on
20 July 2017
by Isabelle Ohnemus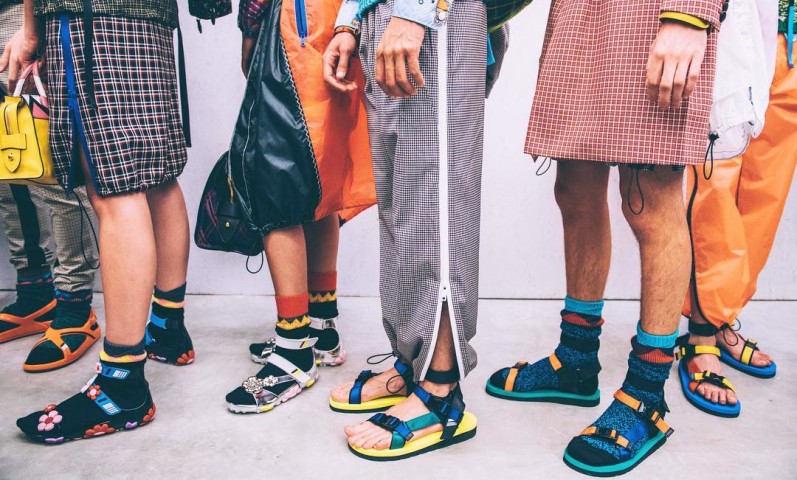 Here's your who, what and when of summer sandals.
Trend alert! The leather gladiator sandal provides a modern take on a historic silhouette. The London shows were rife with them, showcasing simple and sometimes cleated soles. Lend summery cool to a plain outfit with restrained strap details, buckled across the foot or tied around the ankle. Keep it basic in black or new navy.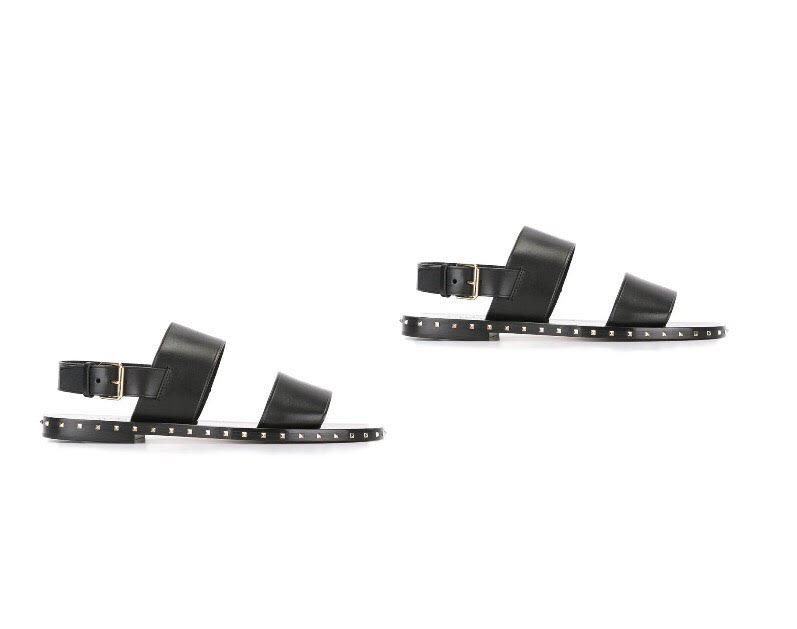 On EyeFitU: VALENTINO Garavani Soul Rockstud sandals
Moving on from last year's slider style, the two-strap sandal is here. The perennial piece for hotter seasons sees an update in soft suede or supple leather for a sartorial finishing touch. Slingback styles are even more practical and are a fresh, wearable move on.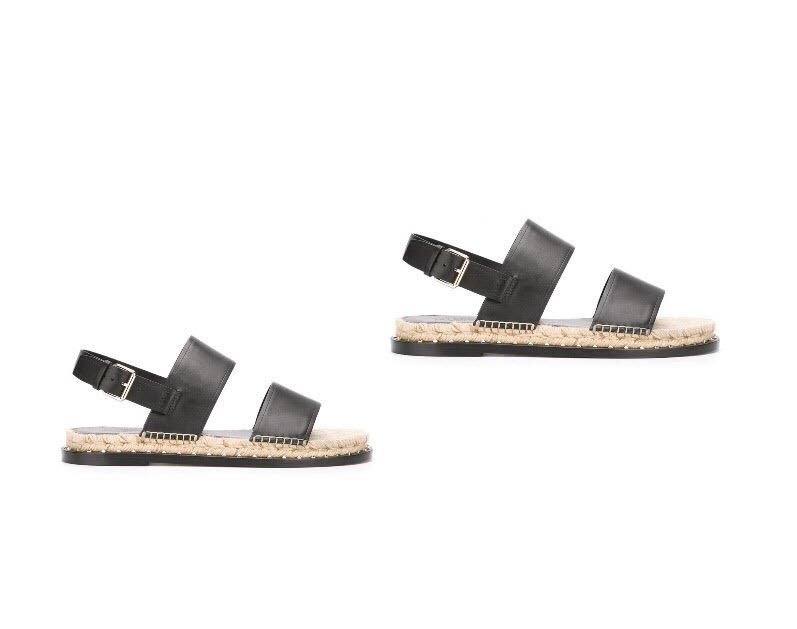 On EyeFitU: VALENTINO Garavani Soul Rockstud espadrille sandals
As seen at Y-3 and Louis Vuitton, the sports sandal is the go-to for athleisure lovers. Activewear collections presented a sandal and sneaker update. Vibrant contrast colours emerge, bridging the gap between casualwear and sports pieces. Sandals take influence from sneakers via perforated surfaces, Velcro fastenings and performance soles.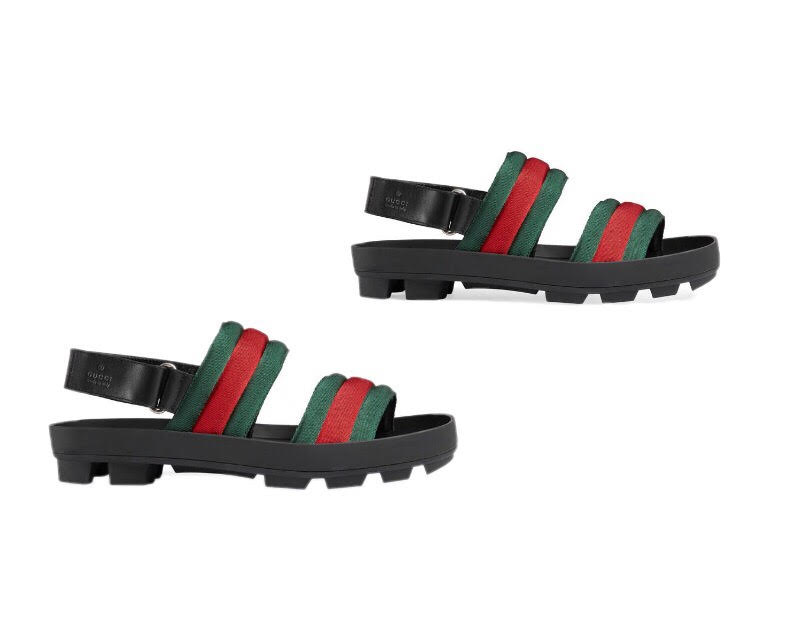 On EyeFitU: GUCCI Leather and Web sandas
The slide still has its place with Neil Barrett and Rick Owens championing the black modern slide. Pool slides gain even further popularity so new ways to develop the item for now are explored. Try constructions in sleek black leathers or with gently deconstructed cutouts for a slick, minimalist take.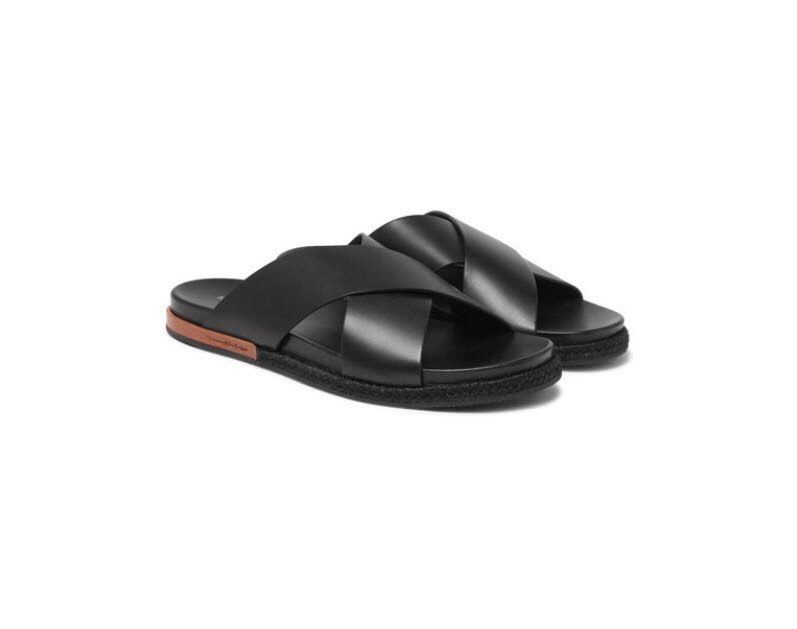 On EyeFitU: ERMENEGILDO ZEGNA Taormina leather sandals
The unexpected addition to your sandal collection this season? The bandage sandal. As proven at Y-3, the bandage sandal is a distinctive yet mainstream piece. Allowing comfort and ease of wear, there's an activewear influence to the material uppers in elastane renditions. Choose a smarter outfit to avoid trend overkill.
Photo:  Y-3 / Spring Summer 2017
The Club Tropicana trend makes its way down to the feet with tropical palm prints finding a new expression on this year's sandals. High-summer sliders turn heads with the bold print application. Antonio Marras and Marc Jacobs showcased adaptations with embroidery and single strap placements.
Men's summer sandals are updated with other bold colour pops too. Vibrant colour application invigorates classic profiles with a youthful energy. Experiment with offbeat colour combinations to offset soles and fastenings with intense brights – yellow and red are trending. Playing into the demand for comfort styles, innovative cleats are a strong look, whilst bright trims and piping amp up the 1990s references.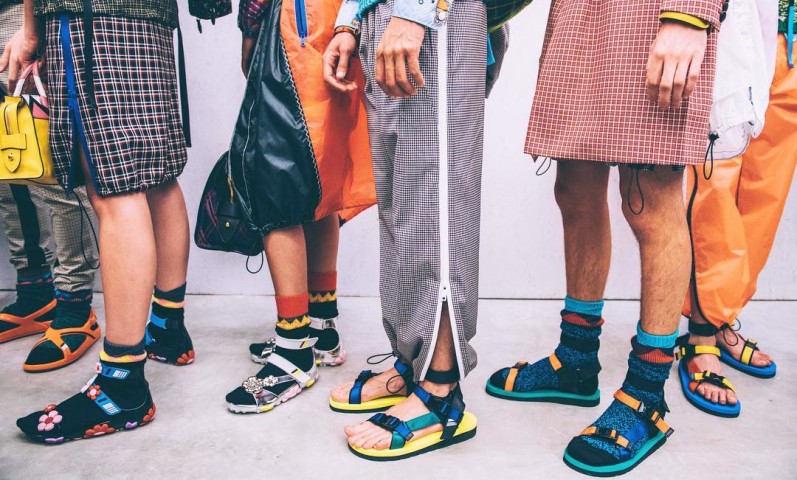 Photo:  Tommy Ton / tommyton.com
Last but not least, embrace a subversive undercurrent with studded decoration. Bestselling styles receive an update courtesy of decorative hardware. Valentino and Gucci showed off tough, armour-like attitude with pyramid or spiked cone studs. Polished silver or gold studs hint at a premium feel set against multi-strap designs and flat leathers.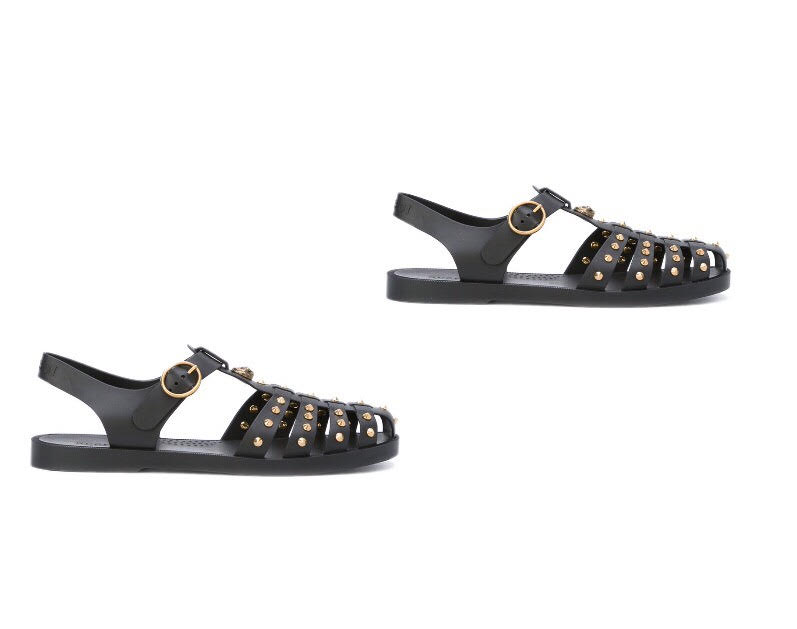 On EyeFitU: GUCCI buckle strap sandals
Buy them all; we won't tell.