Photo:  Free People/ SS17
Ready for new denim but overwhelmed with choices? Here are our top picks for SS17 denim trends, design details, cuts and key pieces. You heard it here first.
Jeans, jeans, jeans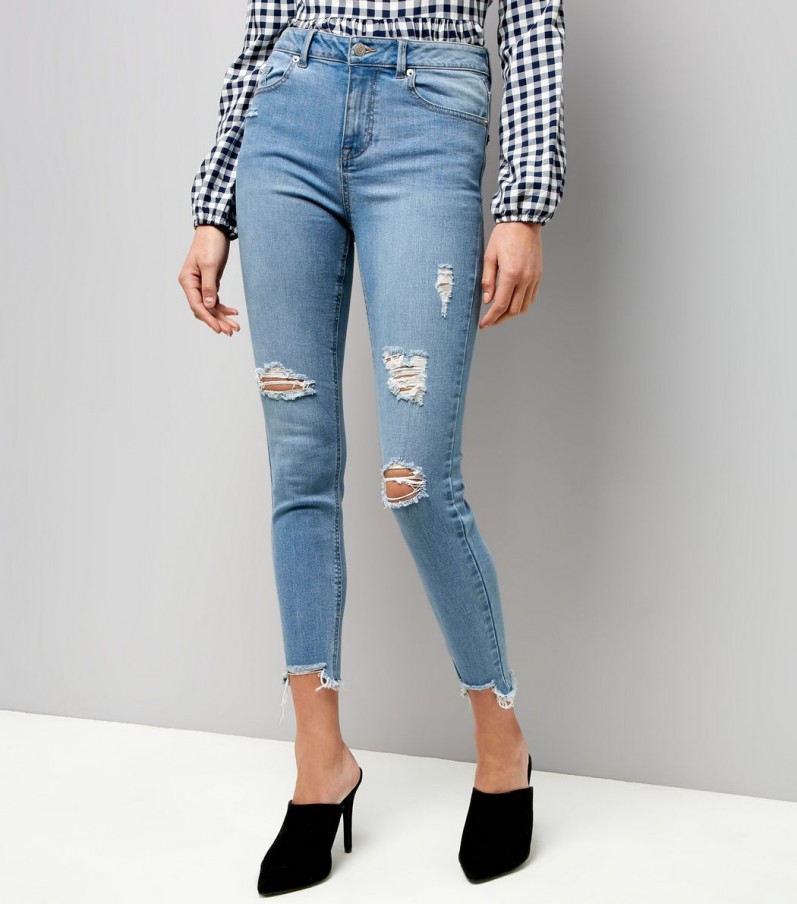 Photo:  New Look/ SS17
Embrace all jeans! Loose jeans are big in more ways than one, as are wide leg and flared styles and skinny still alive. Dare to crop (as seen at Rag & Bone and Tory Burch), which becomes a new classic acting as a fresh alternative to the boyfriend jean.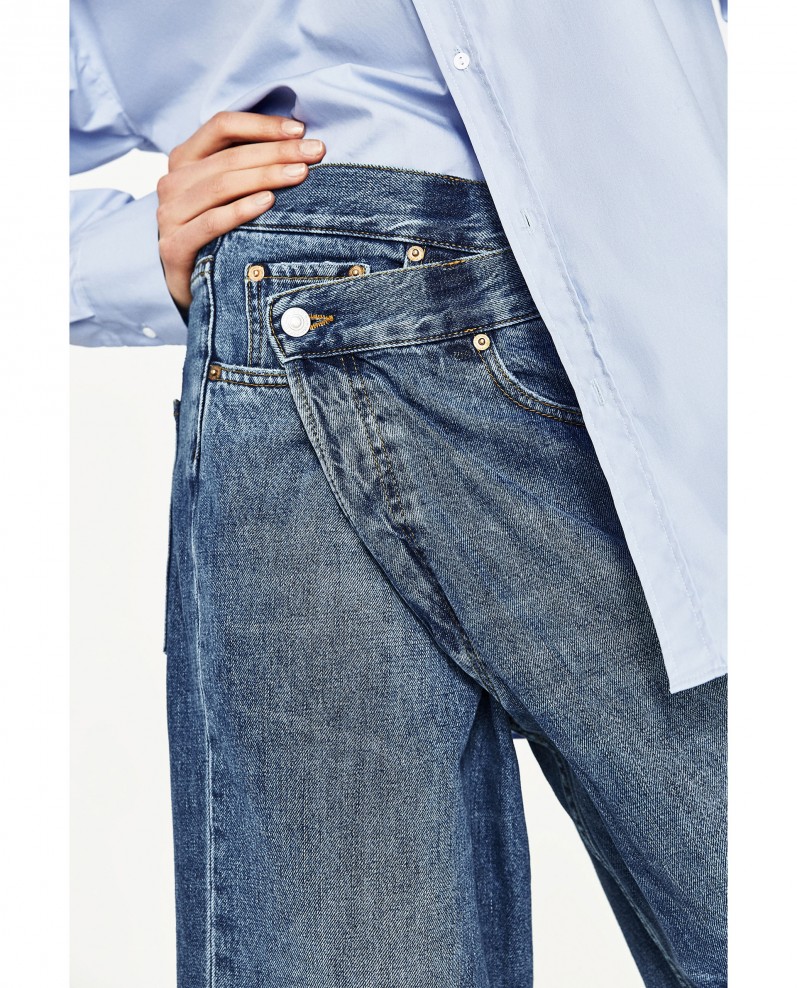 Photo:  Zara/ SS17
A daring micro trend we have our eye on is front slits, seen on cropped flares and wide leg jeans. Slicing moves towards the centre of the jean's front, with messy frayed edges or a clean cut. Another detail to note is bow tie closures lending a cute spring touch. Designers' love of customisation is set to continue into SS18 making the front slit jean a great wardrobe investment.
Embroidery detailing
Yes, embroidery on your denim is taking over. Our favourite micro trends are big cats, 1970s psychedelia and tropical wildlife.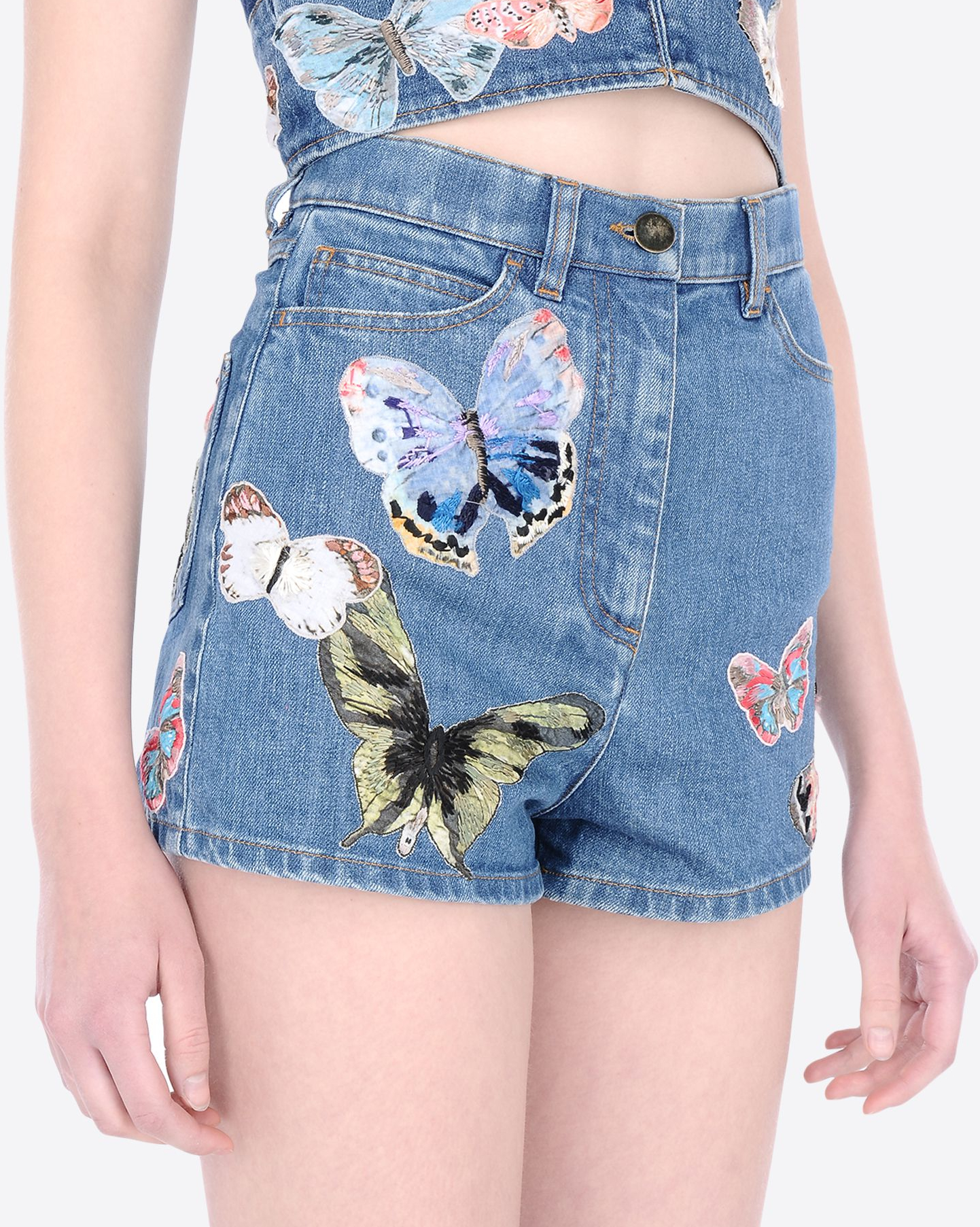 Photo:  Valentino/ SS17
The first theme, as seen at Stella McCartney, is an evolution of the souvenir jacket. Tigers make a statement on a range of denim assortments whether hand-drawn or cartoon-like. At Gucci, the big cat motifs combine with florals and French italic text to soften the look.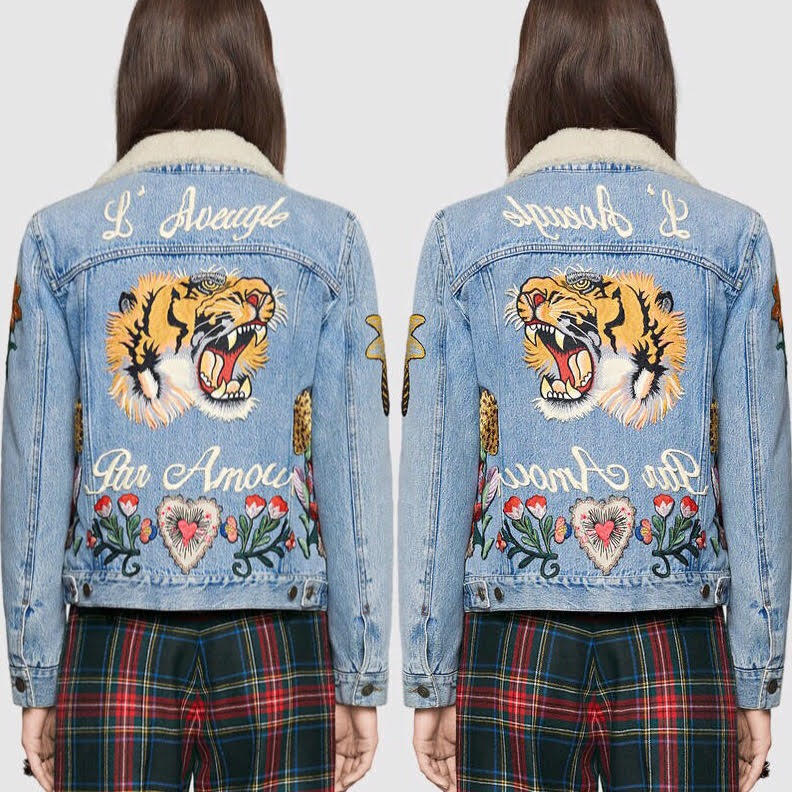 Photo:  Gucci/ WSGN.com
Secondly, the ongoing trend for 1970s fashion translates into denim, exploring the era's psychedelic side through vibrant, bold thread-work. Jeans and jackets are adorned with rainbow, alien and other cosmic motifs. The likes of Larkin and Larkin add newness through placement of embroideries on the knees and pockets.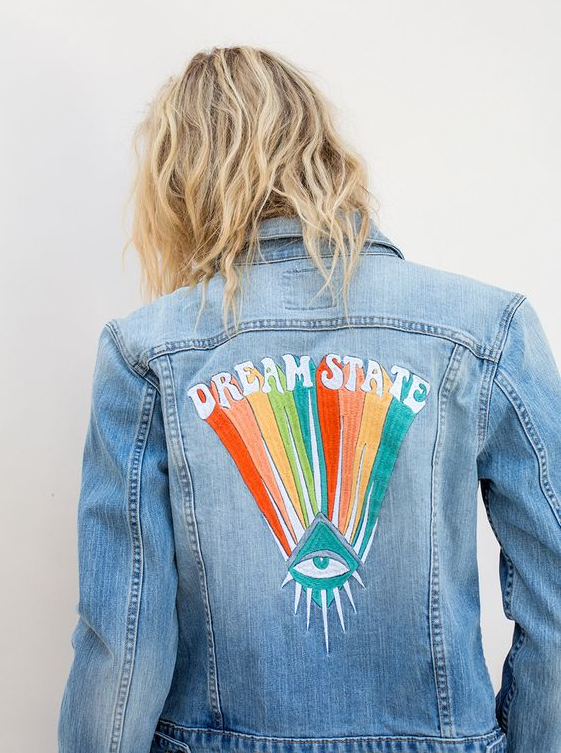 Photo:  Revice/ SS17
Last up, beautiful insects and colourful birds are scattered over shorts, jeans and jackets with the tropical wildlife micro trend. New Look and River Island have dreamy, festival ready attire adorned with statement hummingbird and butterfly motifs.
Feminine workwear theme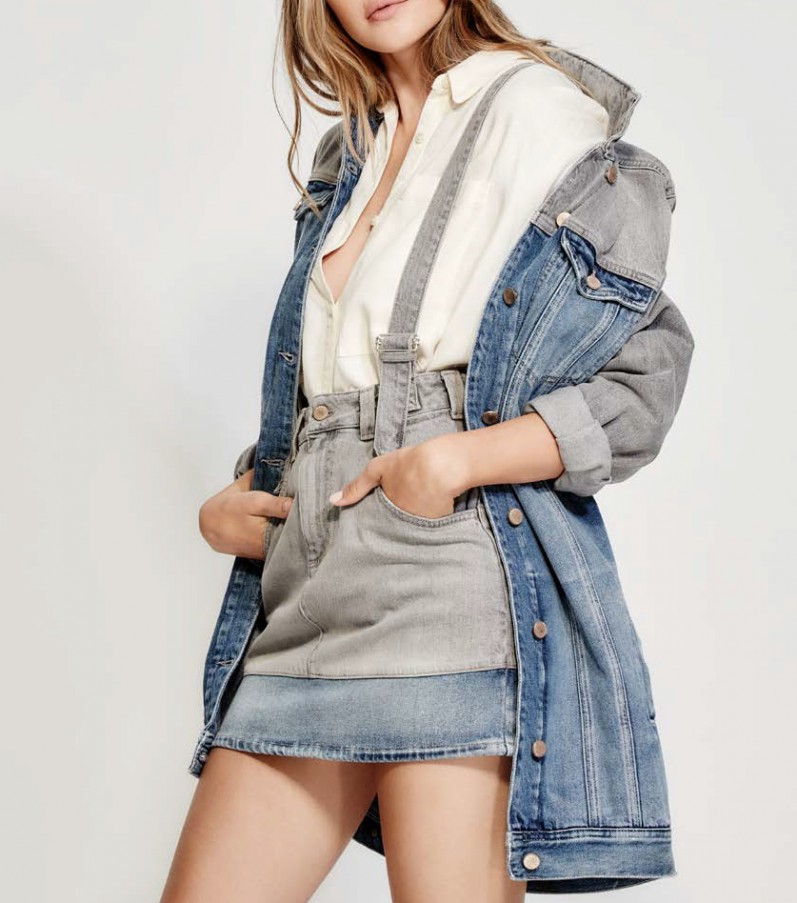 Photo:  Guess/ SS17
Emerging this season, denim is utilised across traditional workwear looks such as utility coveralls, carpenter pants and mechanic suits. For a premium look, design details are pared back for a chic, minimal aesthetic. Guess and Michael Michael Kors offer flirty appeal with updates such as strapped miniskirt versions.
Decorative denim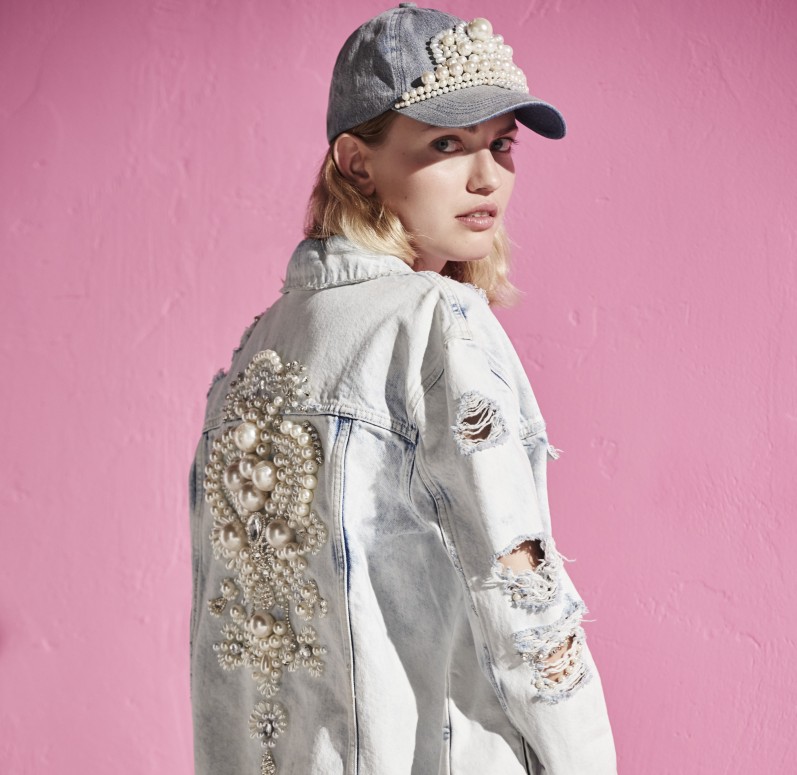 Photo:  River Island/ SS17
In contrast, the decorated denim trend calls for more is more. Surface embellishes, beaded decoration and oversized trims work for festival season. As seen at American Eagle Outfitters and River Island, designs show off peace sign embroidery, youthful coloured tassels and pearly stones and beads. Invest in statement denim hot pants for your summer wardrobe.
Colour choice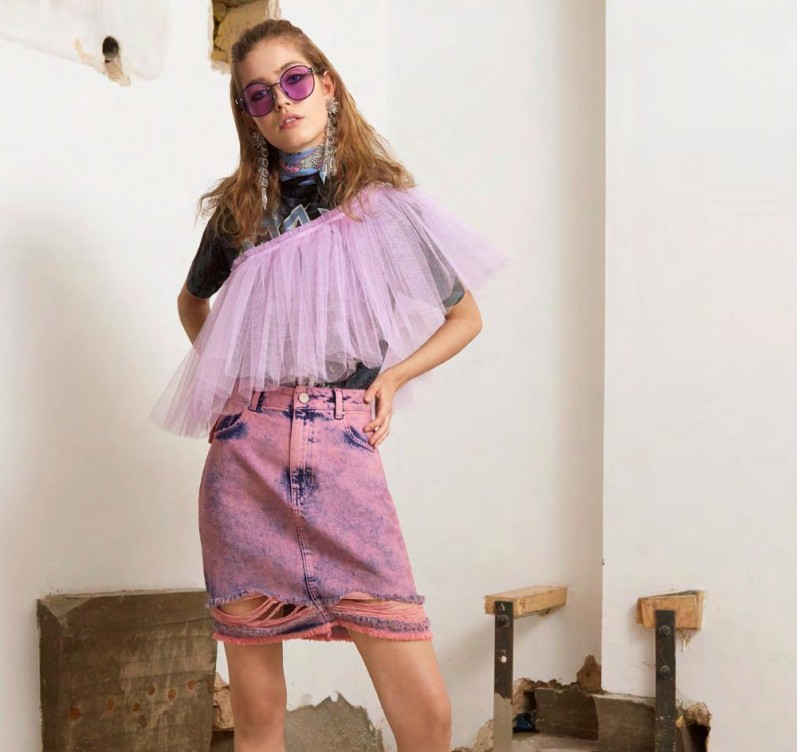 Photo:  Asos/ SS17
From ASOS to Madewell, pretty pink is the unexpected hue for this season if you want to venture away from classic blue. Lending a girly appeal to key denim assortments, we've spotted 1980s acid wash, pastel pink laundry techniques and destroyed surfaces gaining popularity.
Shorts options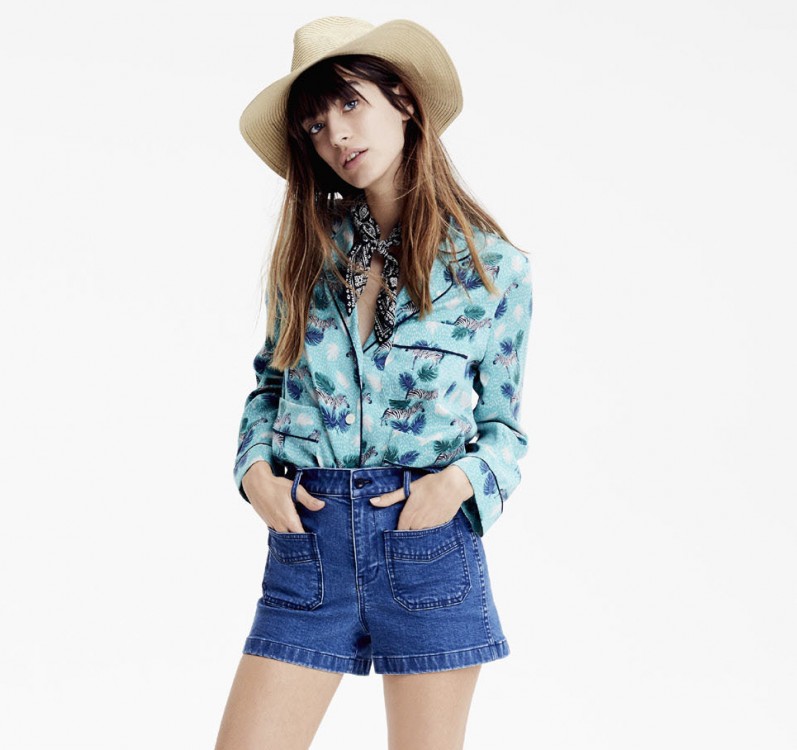 Photo:  Madewell/ SS17
EyeFitU's favourites for SS17 include the 1980s mom short and dark festival looks. Essential qualities of the mom short include high-waist cuts, longer lengths and a slightly dropped crotch. Both Global Denim and The Fifth Label are focusing on the style, with details such as rolled-up hemlines or cut-offs. Moving onto the likes of Alexander Wang, shorts are refreshed with chic-rock or dark goth aesthetics. Skewed hemlines are rife, paired with sleek trims from lace-up decoration or tonal studs. Make like Diesel and choose a charcoal or washed-out black colour palette.
Jacket update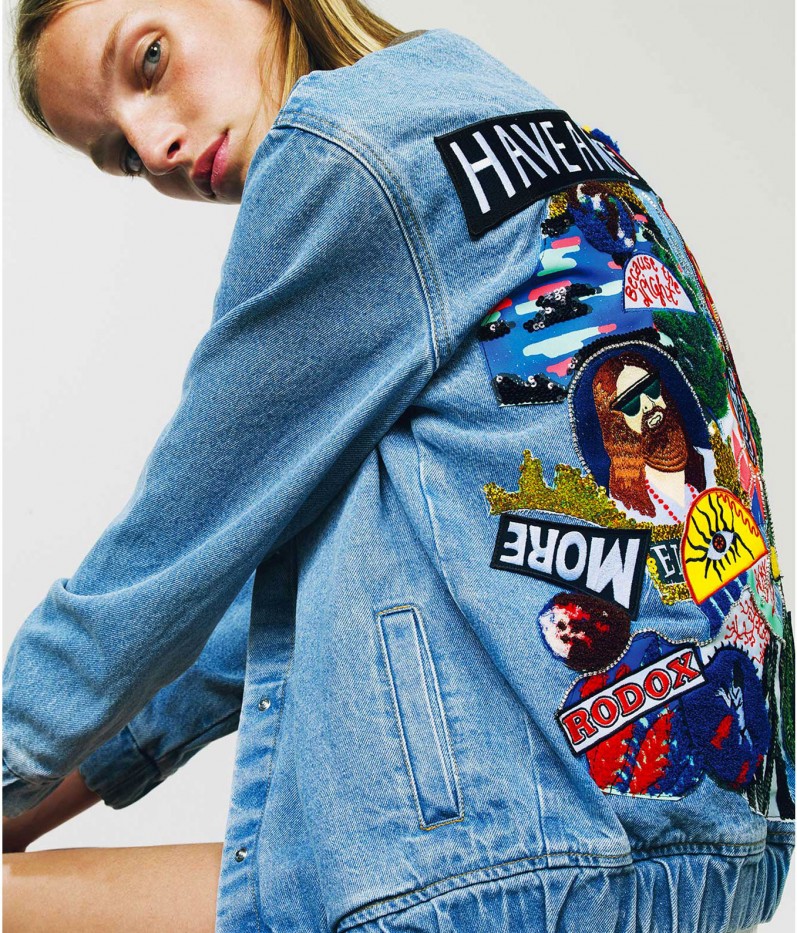 Photo:  Filles a Papa/ SS17
If you choose one denim jacket to splash out on this season, make it the fashion bomber. If your look is fun and daring, splash out on a denim jacket with sequin badges, emoji icons and colourful patches. For a more premium feel inspired by Versus, choose a long-line cut with laser prints. 1990s stonewash or retro blue provides the best canvas here.
Styling tip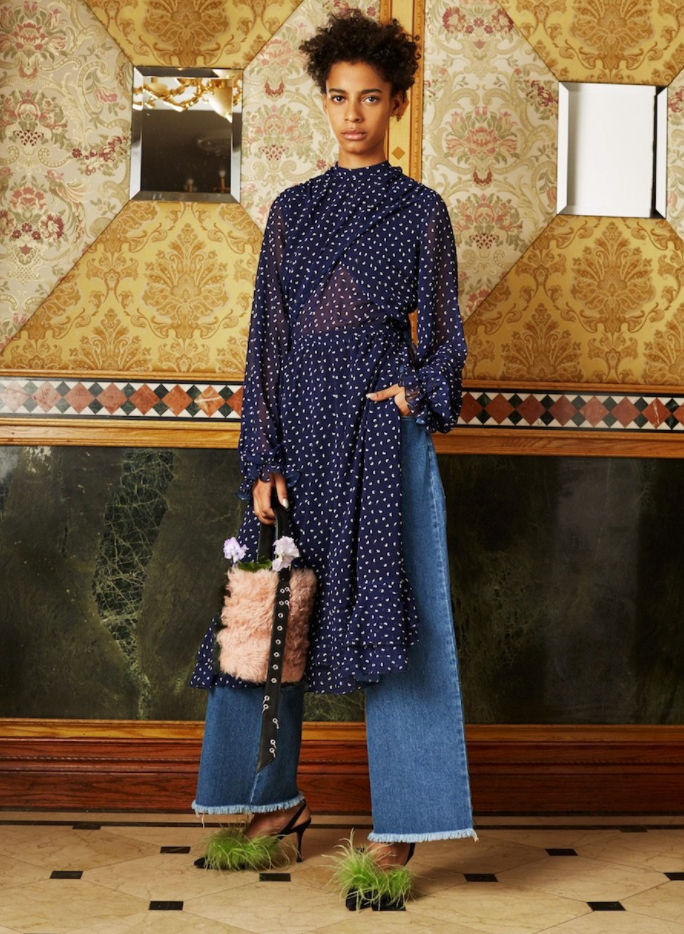 Photo:  Credit: Sandy Liang
If in doubt, layer! It's not just tees and blouses to be worn with your denim any more. Come SS17/18 you can pair them with your best dress too. The popularity of hi-lo styling means slinky boudoir inspired slip dresses have never looked better than when paired with a clean cut cropped jean. Or celebrate folk style with a ruffle dress layered over indigo slim-fit jeans. Elevate your look with a point toe. Done!
So which denim are you doing?