Photo: Free People/ SS17
If you weren't cool enough to get to Coachella this year, you can at least dress like you're cool enough.
We're back with the trends that dropped in the festival calendar's most fashion-forward event. Trust us, you need these wardrobe updates in your life.
Acid trip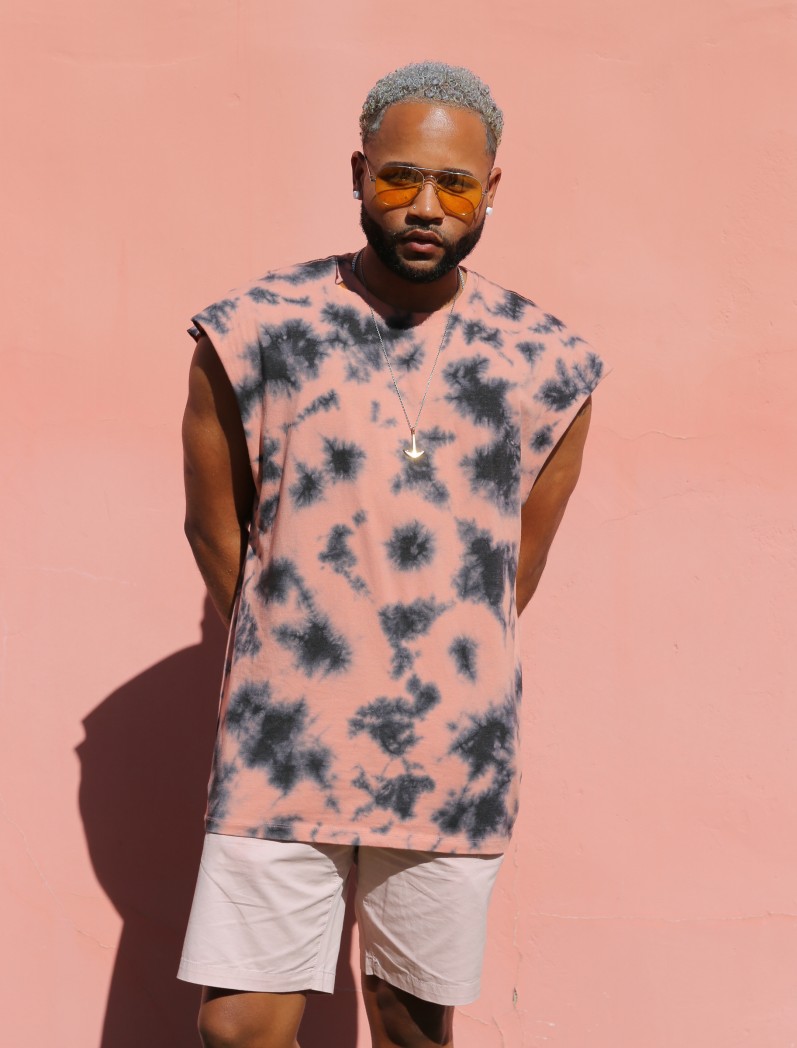 Photo: Coachella Menswear/ WGSN
It's all about bold colour with this trend. Nearly neon brights, psychedelic patterns and trippy effects draw inspiration from 1970s Rock 'n' Roll and Woodstock style. Festivalgoers stand out in tie-dyed, washed and bleached garments such as the classic T-shirt. For a less extravagant effect, throw on a denim trucker jacket or comfy hoodie over the top to blend into the crowd.
Never ending 90s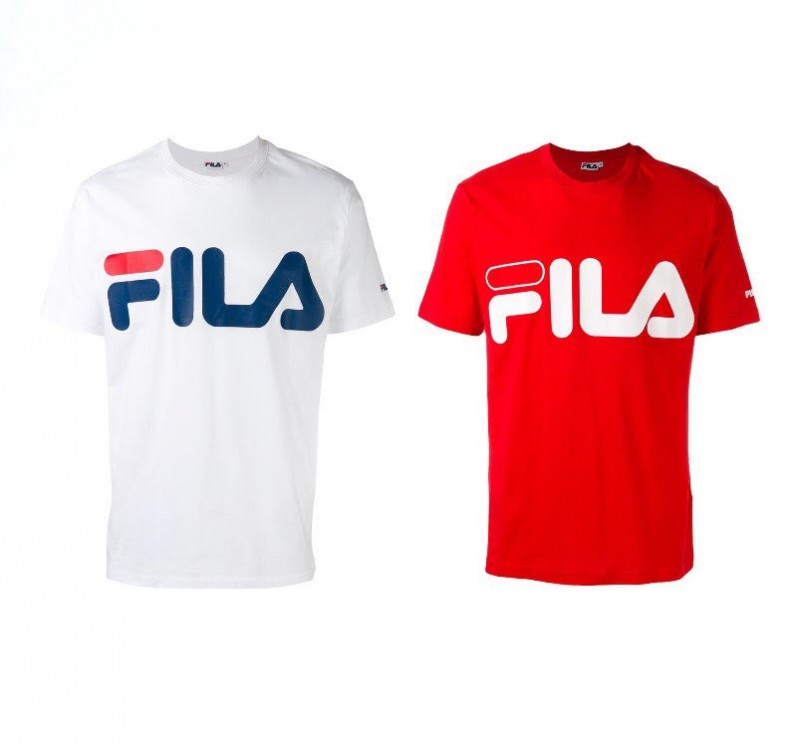 On EyeFitU: FILA print T-shirt
It's not the first time EyeFitU have reported on 90s fashion – it turns out it's the decade that just keeps on giving. Showcase the power of slightly retro sportswear with iconography from cult athletic brand Fila to American heritage giant Tommy Hilfiger. Make the head-to-toe sports aesthetic work outside of the gym, centred around a strong colour palette of heather grey, royal blue, classic red and bright white. When it comes to accessories, don't be scared to complete your look with caps, soccer socks and even sweatbands.
Pink power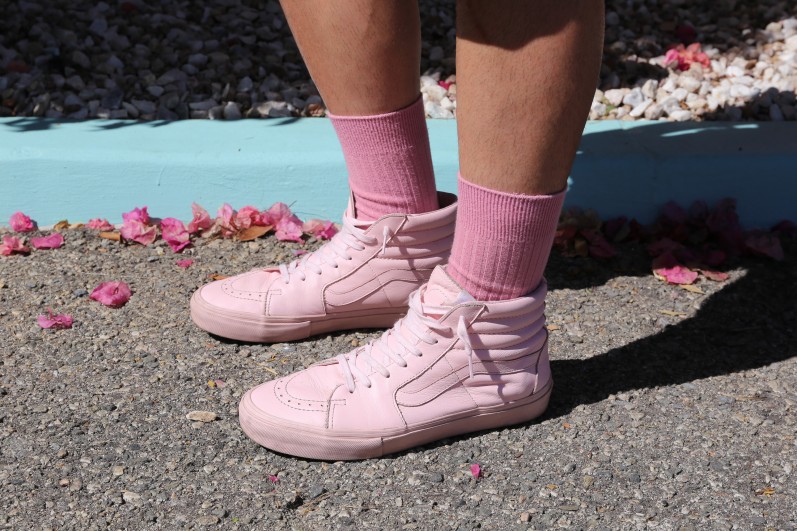 Photo: Coachella Menswear/ WGSN
The new age of masculinity has arrived and it's all about… pink. At the festival and beyond, pink is a top colour choice harking back to 21st Century hip-hop regalia (more vibrant in tone than the dusty shades of past seasons). The bravest choose a complete look in all pink, whilst those wanting to dip into the trend more subtly can choose one pop of pink framed against a neutral grey or light denim. We're dubbing the look at Coachella, millennial pink. The light hue was spotted everywhere from socks and bottoms, to shirts and hats. Challenge older views and think pink.
Tour merchandise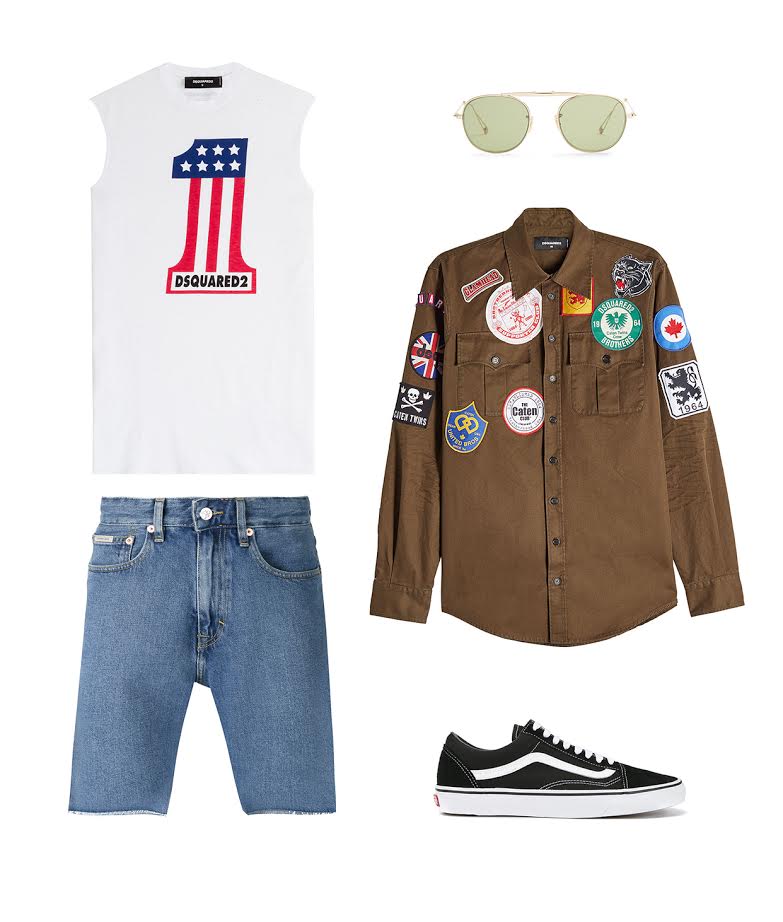 On EyeFitU: COACHELLA VIBES Dsquared2 Vans Calvin Klein Jeans Garrett Leight
Moving on from festival favourite, the rock tee, tour merchandise has invaded high-street retailers, luxury boutiques and, now, Coachella. Attendees favoured rock, pop, R&B and hip-hop merchandise showing off their personal taste across fashion and music. The mini trend has evolved into black grounded graphic tees, spotted everywhere at the festival. Ranging from hip-hop and 1990s band tees to collaged designs or wording, newness has arrived thanks to various fonts on one T-shirt or styles that layer imagery and writing together.
Resort boys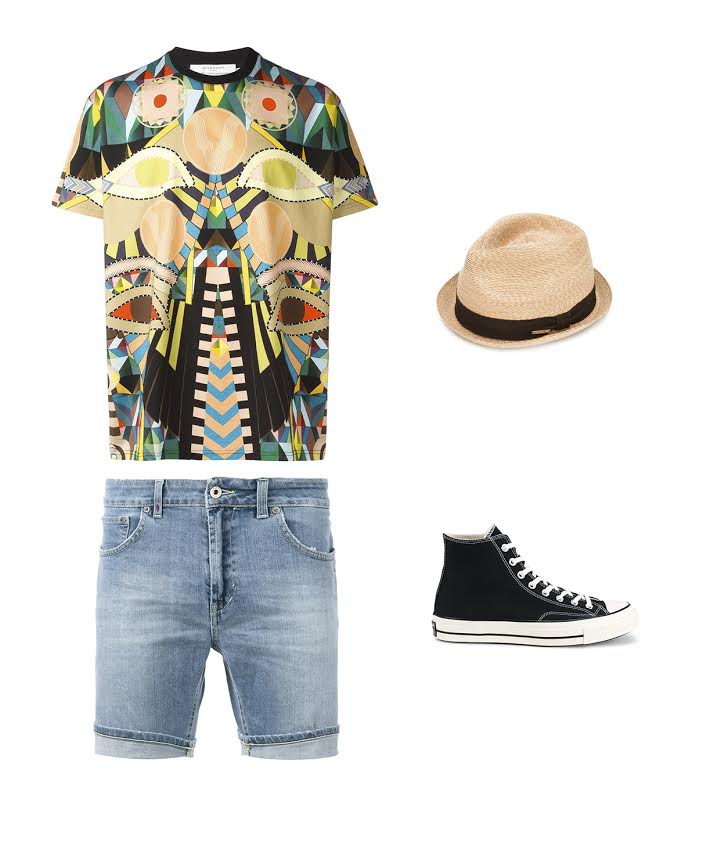 On EyeFitU: COACHELLA IS AROUND THE CORNER Givenchy Dondup Dsquared2 Converse
Also seen across womenswear at the trendiest festival of the year, this look showcased holiday-ready outfits en masse. The must-have key item? Printed resort shirts. But don't stop there – pair with knee-length Bermuda shorts. Matching sets offer an edgier approach, whilst solid contrast looks offer sophistication in the desert. Throw on kerchiefs, sunglasses and a Fedora hat to protect against the elements and top off with sneakers for an urban touch.
Accessories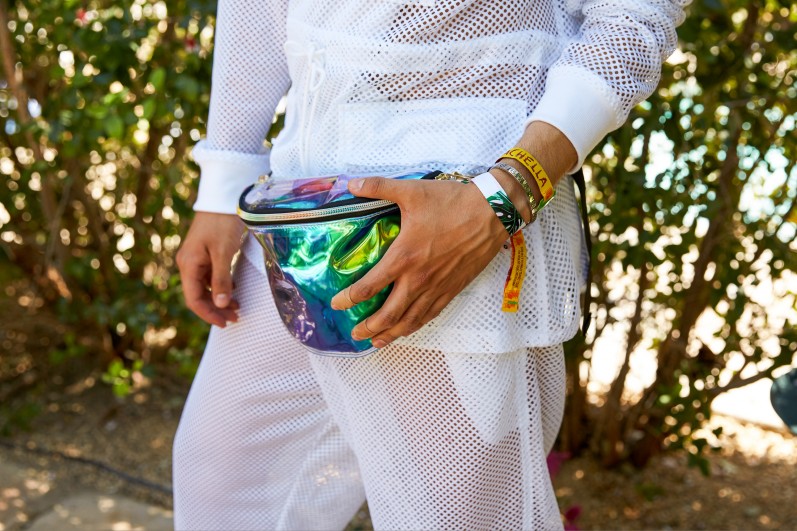 Photo: Coachella Menswear/ WGSN
Don't forget to accessorise, accessorise, accessorise to stand out in the crowd at the main stage.
Of course, eyewear was everywhere and the top pick at Coachella was rounded sunglasses. Metal Ray-Bans won number one item in the eyewear sector – we spotted classic or mirrored lenses, gold and silver frames as well as coloured lenses for standout. In fact, sunglasses with yellow lenses were the new eyewear trend to drop at Coachella. We predict festival season to be awash with the shade, whether on rounded frames or aviators.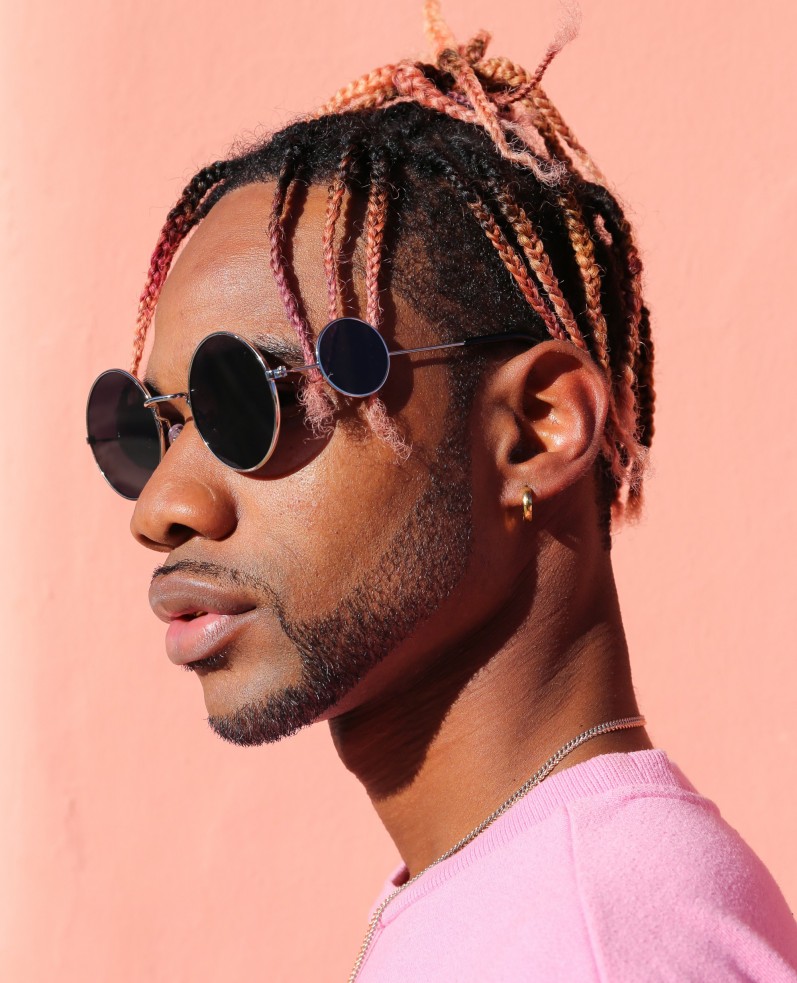 Photo: Coachella Menswear/ WGSN
When it came to footwear, pool slides aren't going anywhere. The sandal of choice, from high-end designer to sport iterations, was featured with socks (despite soaring temperatures). The most popular choice was Gucci's striped slides in both black and white. Work it.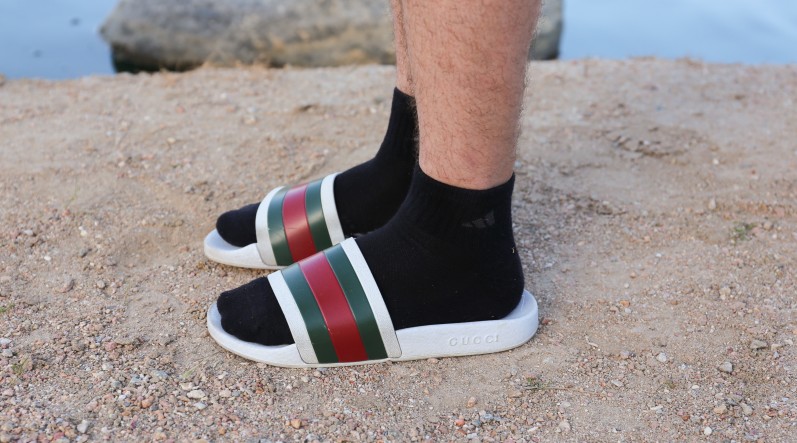 Photo: Coachella Menswear/ WGSN
On the other side of the shoe spectrum, desert sneakers were also a winning look at Coachella. Neutral toned trainers stole the show in washed out grey hues or a light tan colour palette. Used as a practical styling device, neutral footwear can offset a bold festival outfit, acting as the perfect addition to a 'more is more' look. Stylish crowd members were seen in suede, canvas, knit and leather silhouettes across Yeezy Boosts and hi-tops.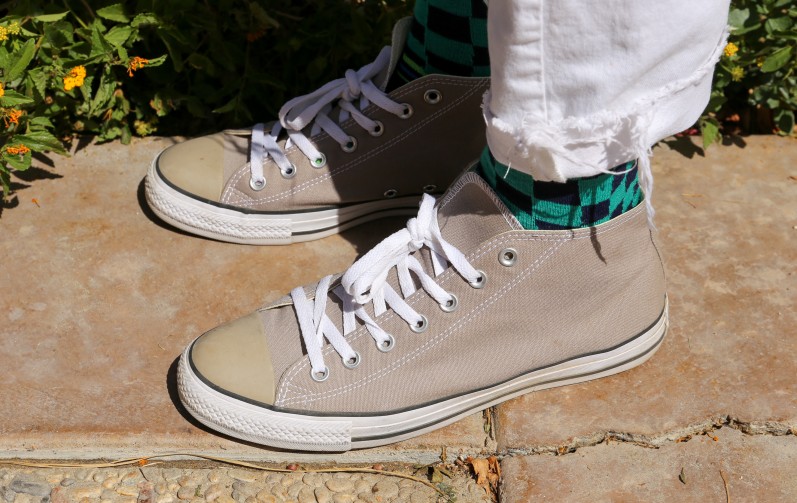 Photo: Coachella Menswear/ WGSN
Maybe you'll have to wait until next year to grace Coachella with your presence, but at least Coachella style can make it to your summer wardrobe sharpish. Rock on.