Look wild, be docile but remain mysterious: This season's prints will warm up you heart and give you this roaring attitude from morning to late nights.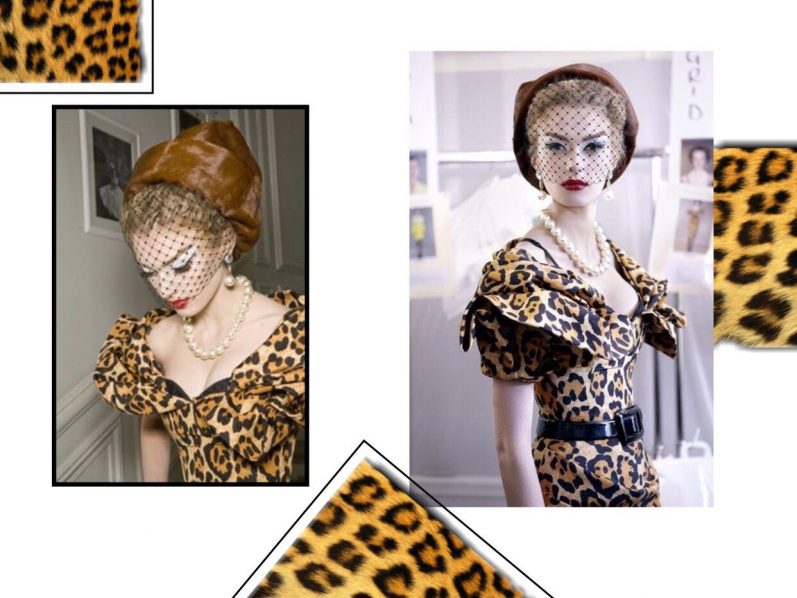 Photo: Mitzah Bricard 
History proves it, animal prints are here to stay and to inspire us over and over again.
Their migration from a status symbol, at the time when kings used them as furs, rugs and hunting trophies to the 1940's where animal prints reappeared during the early stages of the women's movement. In the 1950's Christian Dior's muse Mitzah Bricard fell in love with leopard print and Dior followed her with his unforgettable leopard campaigns.
Brown leopard print denim with long sleeve with button cuff, frayed hem, buttoned flap chest pockets design on duty of your wild side!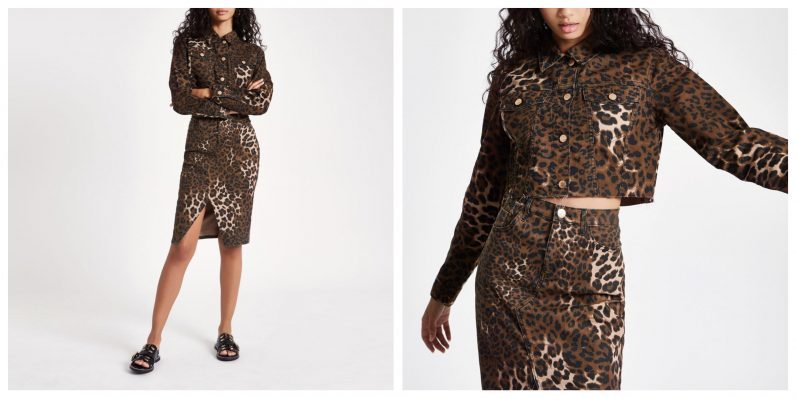 Shop On EyeFitU: Leopard print cropped denim jacket: River Island (GBP)
The 1960's Bohemian wave followed the adoption of animal prints especially in the US. In the 1970's. The Punk Rock movement readopted prints and added cheetah and zebra to its jumpsuits and shoes. The emergence of street art and hip hop music were propelled by Blondie at this great moment in fashion and music history. Liberator pioneers like Bettie Page were the inspiration for animal print to be sexy and fashionable.
Stand out in animal print leggings! The Leo Leggings by NA-KD Trend features a soft and stretchy material, a high waist, and a stretchy waistband.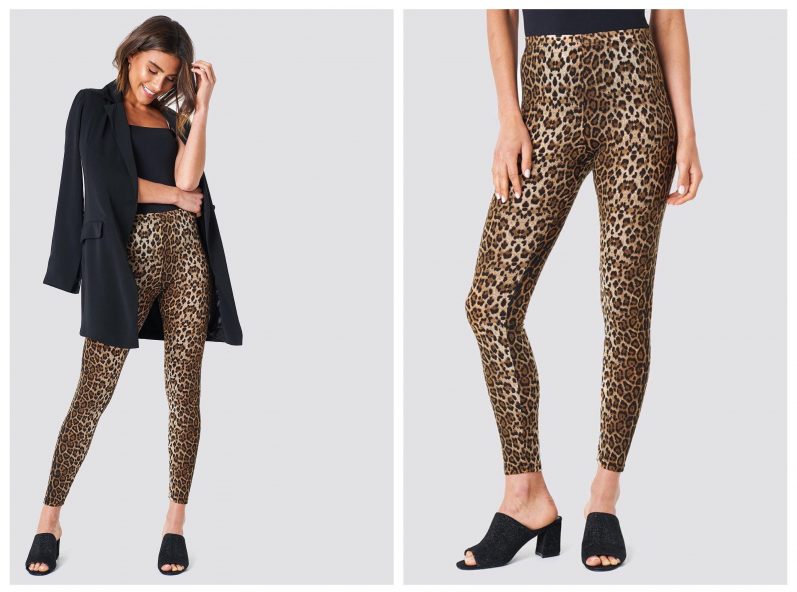 Shop On EyeFitU: Leo Leggings: NA-KD (USD)
Dior came back to it and animal prints became chic and elegant again. Every woman's wardrobe had a something in leopard.
DVF's iconic wrap style is reworked for SS18 in the form of this sepia-brown Whitman blouse. It's crafted from leopard-print silk to a notch-lapel shape with long blouson sleeves and the cropped silhouette has ties at the waist for a flexible fit. Wear it with tailored trousers and high-heeled pumps for a twist on tailoring.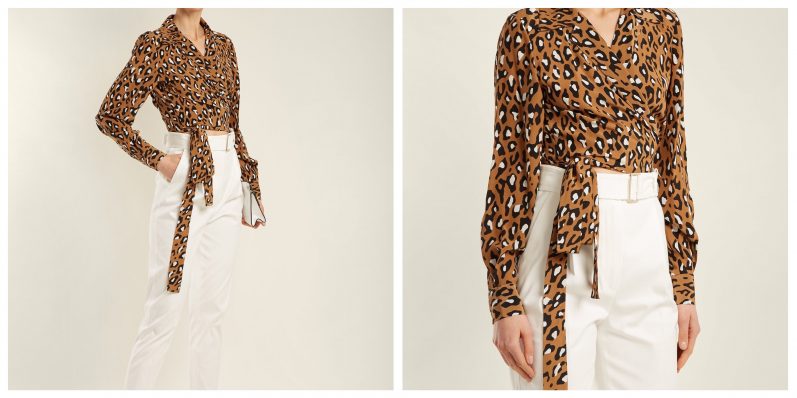 Shop On EyeFitU: Whitman leopard-print silk blouse: Diane Von Furstenberg (GBP)
The major summer trend of animal prints is continuing it's ascent this coming Fall and Winter enhanced by color prints, mixing prints vegan leather and flamboyant textures. Birds, zebra, leopard and snake motives are inspiring our days and nights but be aware, it can be tricky to style. Inspired by collections from the catwalks at Givenchy, Stella Mc Cartney, Tom Ford, Balenciaga, Dolce Gabbana it has spread to an entire year of must-have print in your wardrobe.
Wear it with everything: One Shoulder Ruffle Playsuit by NA-KD adds a trendy touch to your wardrobe thanks to an elastic off shoulder design, a stretchy waist, and balloon sleeves with a self tie belt, and ruffles details.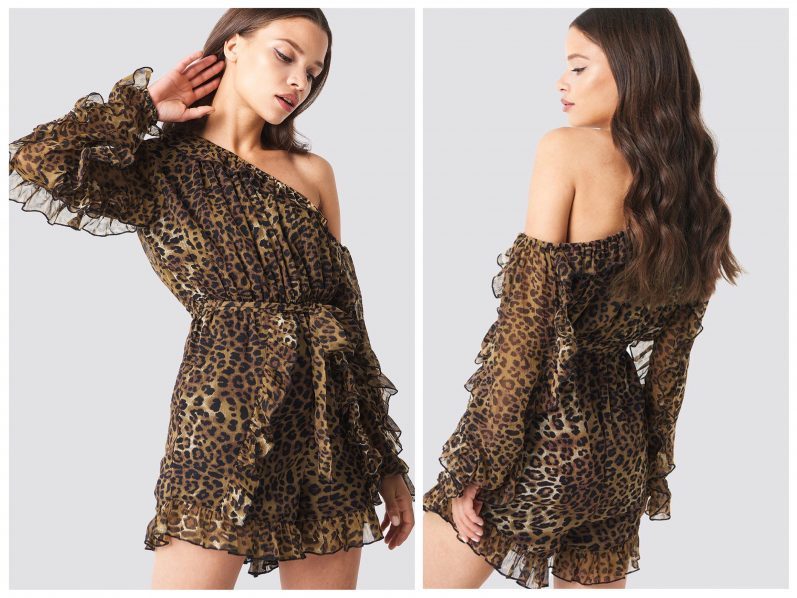 Shop On EyeFitU: One Shoulder Ruffle Playsuit: NA-KD (USD)
Dresses to make you roar
Animal Print dress are a must have this season! Get inspired by mix and matching them with a nice pair of high heels, even sneakers or booties. These dresses are day to night as well as casual to chic.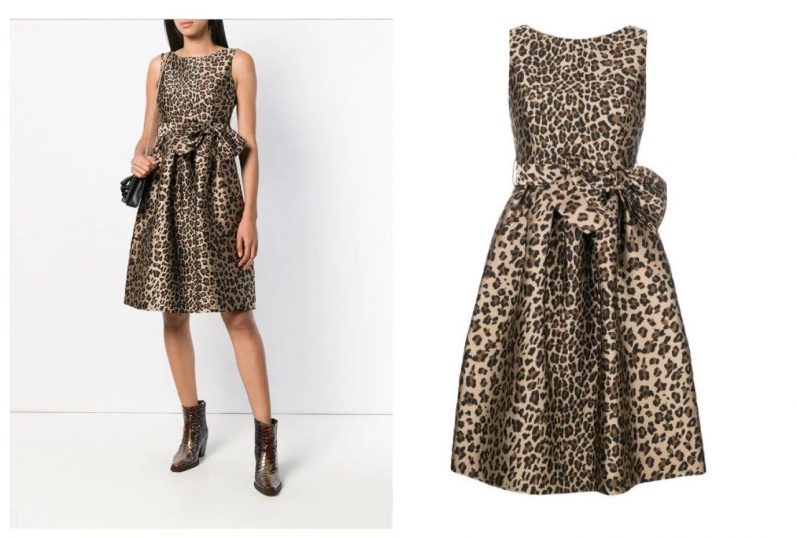 Shop On EyeFitU: Bow detail leopard print dress: P.A.R.O.S.H. (GBP)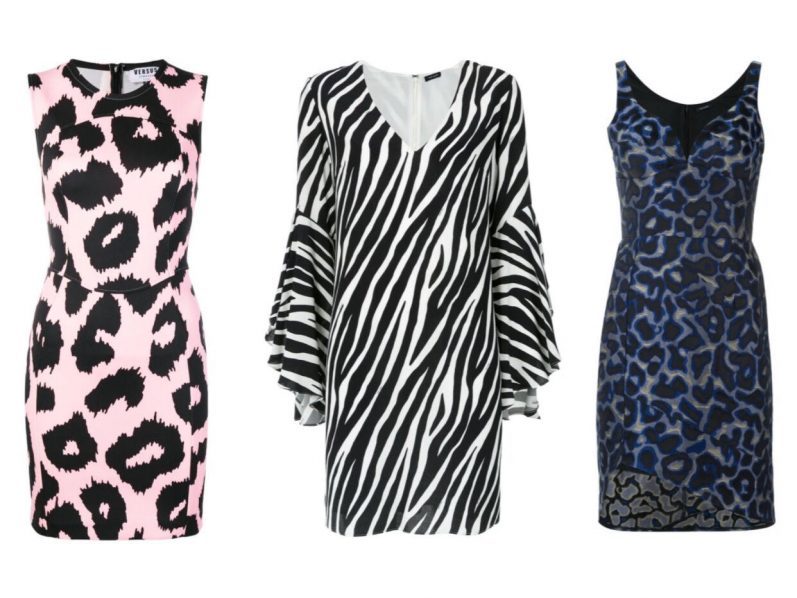 Shop the look: Animal Fever Dresses: Versus, Tufi Duek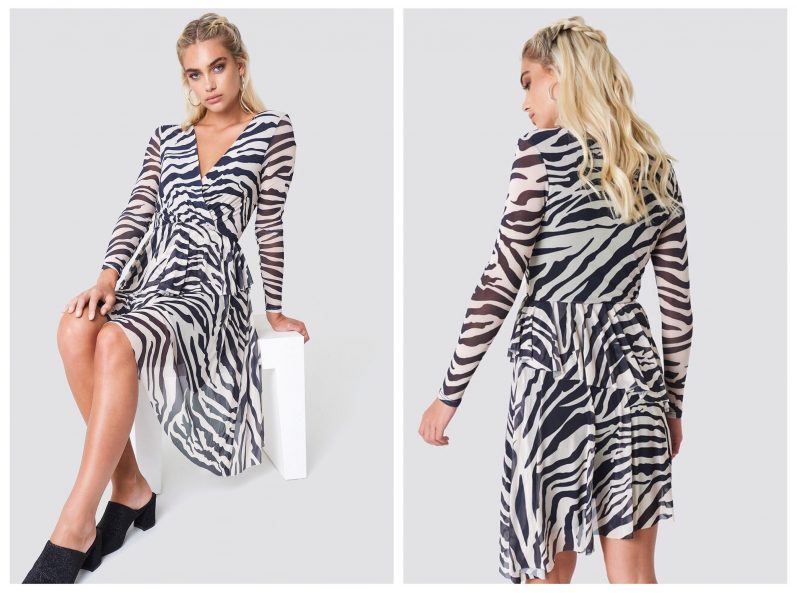 Shop On EyeFitU: Flounced Overlap Mesh Dress: NA-KD (USD)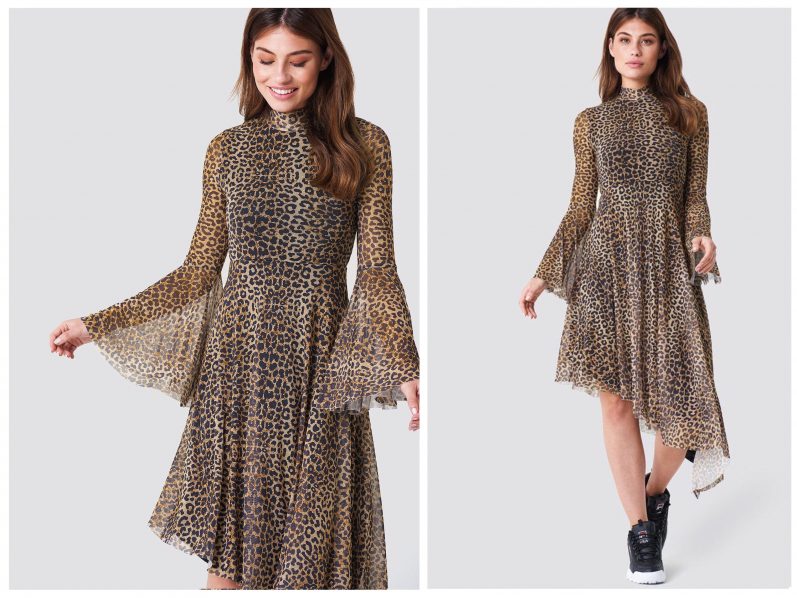 Shop On EyeFitU: Mesh Bell Sleeve Dress: NA-KD (USD)
Skirts
A bold animal print is the perfect foil to all kind of skirts. This trend is flying off shelves. Keep scrolling to see and shop the perfect animal-print skirt. And don`t forget to team it with the matching blouse for a full look.

Shop On EyeFitU: ANIMAL PRINT CREPE SKIRT: Warehouse (GBP)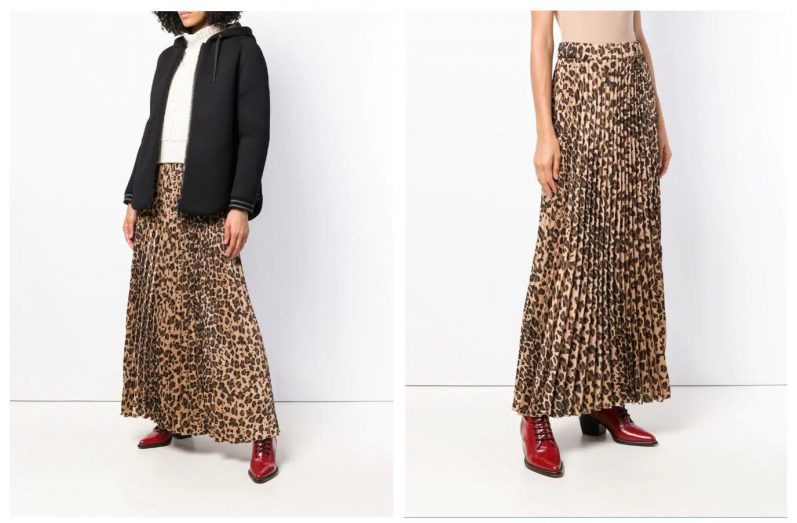 Shop On EyeFitU: Pleated leopard print skirt: P.A.R.O.S.H. (GBP)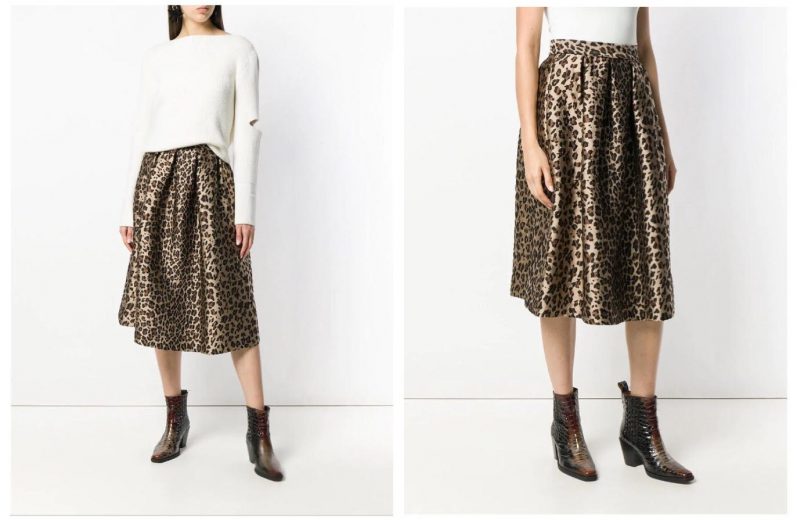 Shop On EyeFitU: Leopard print flared skirt: P.A.R.O.S.H. (USD)
The jackets to own
Woven, double breasted jackets are the obvious entryway into the leopard-print trend. Our favorites tend to be over knee-length, with a rounded fringe and a vintage feel… Look carefully and you'll see a lot more detail in this print.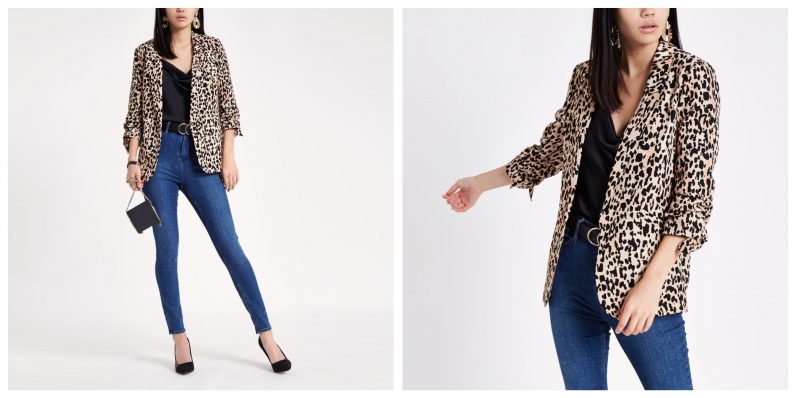 Shop On EyeFitU: Leopard print ruched sleeve blazer: River Island (GBP)
Shop On EyeFitU: Leopard print double-breasted jacket: River Island (GBP)
Shoes
Welcome the bold neutral on your feet. No matter, if it's day or night, but every single pair has a kind of fashion-forward touch, what allows you to style these shoes with anything you want.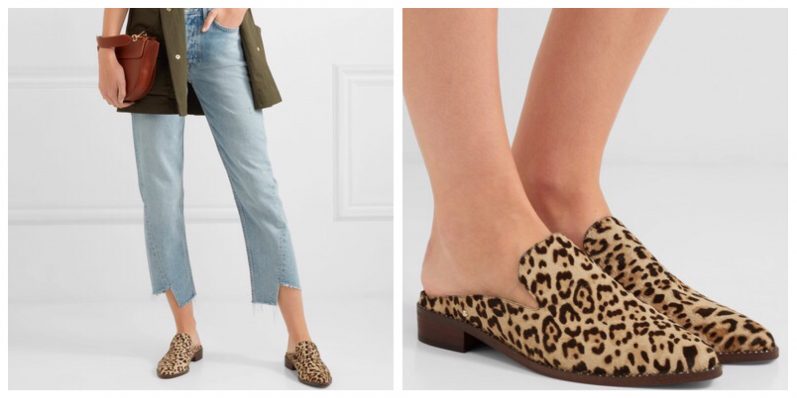 Shop On EyeFitU: Crystal-embellished Leopard-print Calf Hair Slippers: Sam Edelman (GBP)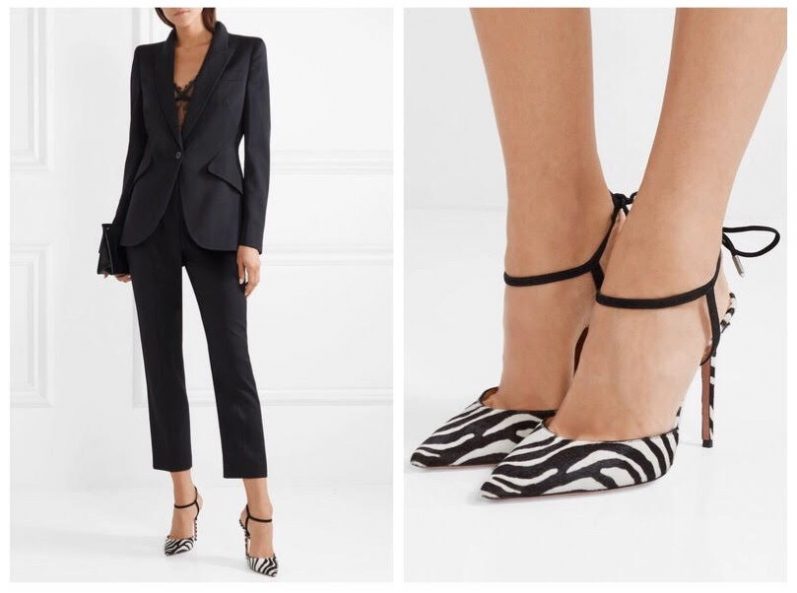 Shop On EyeFitU: Calf Hair Pumps Zebra print: Aquazzura (GBP)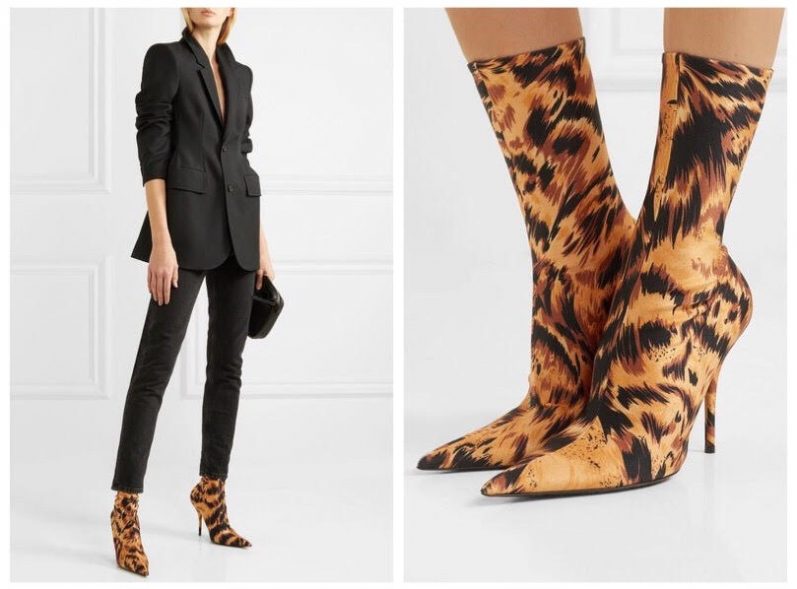 Shop On EyeFitU: Knife Leopard-print Spandex Sock Boots: Balenciaga (GBP)
Accessories
It's Animal Prints revival! An animal print piece of accessories can change your whole look. Wear all black with an printed belt and you will stand out even more, same with a bag, a scarf or a coat. Less is more!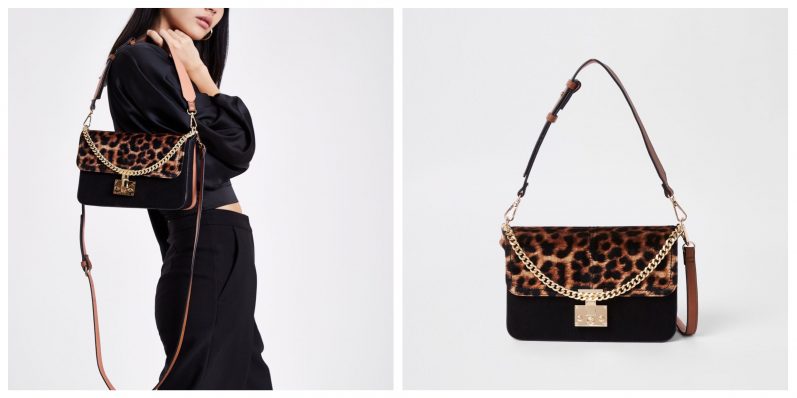 Shop On EyeFitU: Beige leopard print lock front underarm bag: River Island (GBP)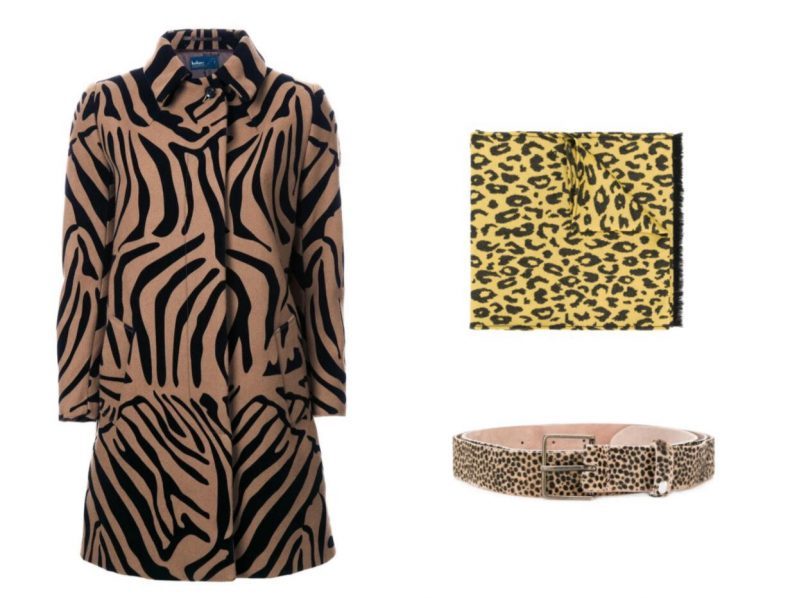 Shop the Look: Animal Print Accessories: Forte Forte, Ermanno Scervino, Kolor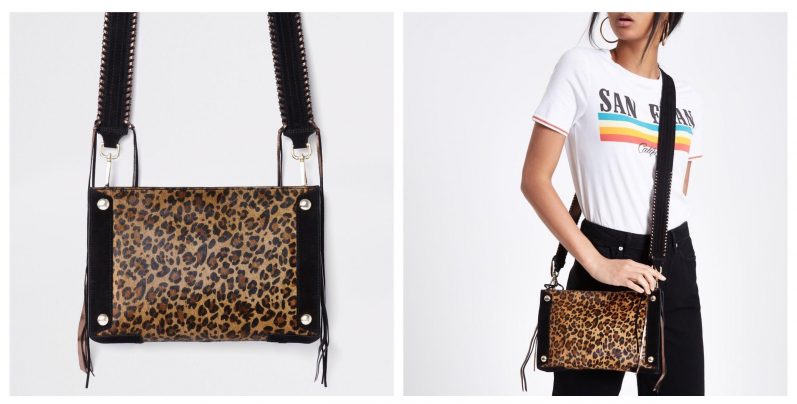 Shop On EyeFitU: Beige leather leopard print cross body bag: River Island (GBP)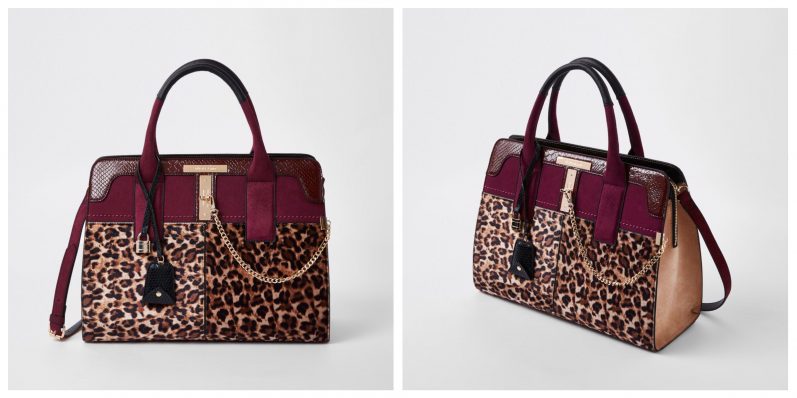 Shop On EyeFitU: Dark Red leopard print tote bag: River Island (GBP)